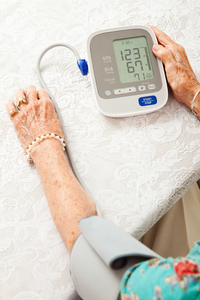 Monitoring Blood Pressure At Home
Sep 24, 2013
Dr. Tom Miller, University of Utah Hospital internist, tells you about home blood pressure machines, if they're any good, and why you should have one.
Transcript
Dr. Tom Miller: Hi I'm Dr. Tom Miller, general internal medicine at the University of Utah and today I'm going to tell you about the benefits of measuring your blood pressure and that you don't have to go to the doctor's office every time to get our blood pressure measured. That's coming up today on The Scope.
Announcer: Medical news and research from University of Utah physicians and specialists you can use for a happier and healthier life. You're listening to The Scope.
Dr. Tom Miller: High blood pressure is still the major risk factor for heart attacks, strokes and kidney failure. Sometimes you go to your doctor's office and your blood pressure is elevated, but it doesn't mean that you have high blood pressure. The best way to check that is in a normal environment at home.

You've probably seen home blood pressure monitors available at your stores. By measuring your blood pressure you can find out, one, is your blood pressure elevated. Two, if you've had a measurement of high blood pressure at the doctor's office, you can confirm this by taking home blood pressure measurements, and third, it will help you track your blood pressure if you need treatment.

Basically one needs to learn how to take a blood pressure at home, you don't want to be checking your blood pressure after you exercise or if you've just had a big meal, or if you're running about and you're anxious.

The great news is that these monitors are now easy to use and you don't have to wear a stethoscope like the nurse used to do in the doctor's office, because that's way too difficult. There are digital readouts and from anywhere from $80-$150 you can buy a machine that is accurate and that will measure your blood pressure and either record it for you or you can write the numbers down and then send those back to your doctor is you like.

Once you purchase the cuff, I'm suggesting you go to the website www.hypertension.ca, this is a Canadian site and you can find a video on how to measure you blood pressure accurately. Basically it requires that you sit resting, feet on the floor for 5 minutes and arm at heart level on a table, no talking, take three measurements, you do this twice a day for 3 days.

You average the measurements each time and if your blood pressure is greater on average than 130 systolic and 80 diastolic, you're going to want to talk to your physician about what to do next.

The other part of this is if your physician has told you that your blood pressure is elevated, that doesn't actually mean that you have high blood pressure. It could be that you're just anxious, even though you don't realize it, when you go into the doctors' offices, probably 20% of people are, getting you a falsely elevated pressure.

Best to know if you truly have hypertension and need to take medications by double checking this at home with your new blood pressure monitor, and you can use the monitor on other family members.

You want to purchase an arm blood pressure cuff because wrists and finger blood pressure cuffs are not always accurate, so you stick to the ones that measure the arm. One size fits most people but for people with large arms, greater than 13" in diameter, you will need to ask for and purchase a large blood pressure cuff, and they also make pediatric cuffs for kids, although you may not need to measure blood pressure in children very often.

The other point is that you can check your blood pressure cuff for accuracy at your physician's office, now most of these cuffs, as I've said, have been quality controlled by engineering groups, but the best thing is to take that cuff in and have your physician measure it against his cuff, and then you'll know that yours is reading true and you'll be able to access your blood pressure at home and know that you'll be getting a correct reading.

Hypertension is the silent killer so it's best that you know what your blood pressure is so that you can do something about it. Most people know their own weight; I would say that most people should know their blood pressure.
Announcer: We're your daily dose of science, conversation, medicine. This is The Scope, University of Utah Health Sciences Radio.