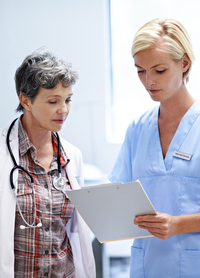 General Physicians and OB-GYNs Should Talk to Each Other
Mar 13, 2017
Women patients are increasingly seeing women's health specialists, like OB-GYNs, less frequently, and are more often receiving health advice from general physicians instead. What common women's health issues should internists know more about? Dr. Kirtly Parker Jones speaks with Dr. Melissa McNeil, professor of medicine and director of the Comprehensive Women's Health Program at the University of Pittsburgh. Dr. McNeil suggests some things physicians could do to break through specialization silos and discusses some general female health concerns that both internists and female patients should better understand.
Transcript
Dr. Jones: So who really knows about women's health? Are the OB/GYNs just the specialists in the below-the-knees women's health? Are internists just the specialists for above-the-knees women's health? And why don't they talk to each other? This is Dr. Kirtly Jones from Obstetrics and Gynecology at University of Utah Health, and we are doing that today on The Scope.
Announcer: Covering all aspects of women's health, this is "The Seven Domains of Women's Health" with Dr. Kirtly Jones on The Scope.
Dr. Jones: For many OBs, women's health stops when the baby is born. For many gynecologists, women's health is above the knees and below the waist. For internists, they might cover the rest, but defer what goes on down there to the other docs. Of course, family physicians would probably rightfully claim that they can cover all the domains of women's health. But what should OB/GYNs and internists know about each other's territory to really take care of women?
Today in The Scope studio, we're talking to Dr. Melissa McNeil. Dr. McNeil is Professor of Medicine and chief of the section of women's health and Director of the Comprehensive Women's Health Program at the University of Pittsburgh. She's trained as an internist in medicine and in public health, and she's here to give grand rounds to the internists and to the OB/GYNs to tell them what they should know about each other's specialties. Let's start with this: What do you think women would want their internist to know about their womanly health?
Dr. McNeil: For so many physicians, they silo women. And increasingly what we . . .
Dr. Jones: Silo them by their body parts?
Dr. McNeil: Silo them by their body parts and the domain that they will take care of. So one of the things that are increasingly happening is that, for the internal medicine community, many of our patients don't see their gynecologist as regularly as they used to. As our Pap smear guidelines go to every five years, as our women move out of the childbearing age and they don't need contraception, for many women, they are not seeing the gynecologist on a regular basis. So the things that I think all physicians need to know, particularly internists, are the following.
I think the first thing is that the folks who are charged with your heart health and preventing heart disease need to understand your reproductive health history. What we know and are increasingly aware of is that women who have reproductive consequences, such as preeclampsia, such as hypertension during their pregnancy, such as small for gestational age babies, have an enhanced risk of cardio disease early in life. So, as an internist who sees, very much as my domain, the risk assessment of women for cardiac disease, I need to understand, I need to know about those birth complications, and I need to understand how it impacts cardiovascular risk.
The second thing I think that internists need to know and understand is breast health. I think the breasts . . . it's a little bit unclear who owns the breasts.
Dr. Jones: Oh, we don't. It's no man's land, sort of.
Dr. McNeil: It's no man's land, so to speak . . . no woman's land. And so one of the things that are increasingly becoming clear is that breast health is an area of precision medicine. We talk about the need to personalize the recommendations we make the patients based on their own individual risk factors, and then a one-size screening program for breast health does not fit all. So, therefore, internists need to know and understand the risk factors for breast health, family history, they need to know how to understand the reproductive parameters that change breast health, like time of first baby, time of onset of menarche, and how to understand things like breast density.
Dr. Jones: Well, you know, this is . . . it turns out that internists don't even touch us, anymore. You know, they might wave a stethoscope sort of in the direction of your heart, but in reality, the gynecologists still take the clothes off and look at us all. But that now, it's not every year. It's maybe every five years, and even now, they're not doing that. So the concept being actually touched while doing a breast exam, now true, breast exams don't really help save lives, but they are a way of talking to your patients about their breast health. So . . .
Dr. McNeil: So that's interesting that you talk about that because I do think that the benefit of the physical exam in that arena has been called into question. Having said, that the benefits of a conversation have not. And so in a busy office practice, you get to decide where you spend your time. I still actually believe in the breast exam. I still do the breast exam on my patients for their annual visit, and certainly, if there's any complaint, an exam needs to happen. So . . .
Dr. Jones: Anything that we wish our internists would know about us?
Dr. McNeil: Yeah, and this is the last thing that I'm going to emphasize. I think that our internal medicine community needs to really become much more comfortable and savvy talking to women about the things that impact the quality of life as they age. And there are three that I think, again, fall into no woman's land. It's the management of the menopause and hot flashes, it's the management of vulvovaginal atrophy and the symptoms of dyspareunia that come with the menopause, and then, finally, incontinence. For many of our women, these things fall into the "don't ask, don't tell" category. And if you don't ask, you'll never find out.
Dr. Jones: Well, not only that. Women often switch off in terms of their healthcare. So when they get to midlife, they don't see their gynecologist, anymore. But if the internist doesn't ask, they figure the internist doesn't know and so they tend to hold those personal. They're often very personally held. And I encourage all of our listeners that if you've got a problem or concern, if you're waiting for your internist to ask you, you might need to buckle up and speak up.
Dr. McNeil: And I would second that wholeheartedly. I find that, in our Comprehensive Women's Health Program, if you ask, patients have the symptoms. I think some of the advertising we see on television has empowered women to come forward for it, but at the same time, you cannot wait, internist, non-internist, for your doctor to maybe ask about everything that might be bothering you. You need to put it forward.
Dr. Jones: And if your internist is your primary care doctor now, not your gynecologist, you need to hold them to the fire, and they can . . . if they don't know, they might be able to talk to somebody. So that gets the last question: How do our doctors talk to each other? Ideally, if we're in a healthcare system and most everyone is either a little system or a big system, why, and how can our doctors talk to each other, our internist talk to our gynecologist, and vice versa?
Dr. McNeil: I think that's a great question and I think it has both become harder and easier with our current practice structure. The idea, of course, is a multidisciplinary practice where you have internists and gynecologists practicing side-by-side so that you can just go next door and say, "Hey, I have a question. Can you come look at this abnormal finding?" Or, "What's the next test you would do with the symptom?" Or, "How do I prescribe vaginal estrogens?"
That's a luxury and doesn't happen very often. I think the next strategy, of course, is just to pick up the phone and call a friend, call a colleague. And it can either be a colleague who's actually sharing care of the patient or someone you just value who will work with you in solving those patients' problems.
The third strategy, which is increasingly being utilized, is communication through the electronic medical record. One of the benefits of a shared electronic medical record is that docs can talk to each other, docs can see what they're recommending, each specialist is recommending for the patient. And so there can be a dialogue about, "Ooh, I'm a little bit uncomfortable with this," or, "Wow! That's a great idea," or, "Maybe we should actually step out and talk about this." So the electronic medical record can be very helpful. And then the last thing I would add is that the way to make docs talk to each is patient-driven.
Dr. Jones: Right, you tell them.
Dr. McNeil: You do. As a patient, you say, "Well, you know what? My gynecologist said something different. What would you think?" Or, "Could you talk to my internist and sort out . . .?"
Dr. Jones: "You just got me started me on some estrogens. Would you talk to my internist about that so that they know?" You know, or, "My internist seems to be kind of negative about it. Would you kind of talk to them and share what you know?" I think it's in the domain of patients' rights to get their personalized care by having their doctors come together around their person.
Dr. McNeil: To make their personalized care coordinated care. And it's very hard for patients when different providers that they trust make different recommendations. So coming together with a consensus is incredibly important for the peace of mind and good-quality care that our patients deserve.
Dr. Jones: So for those of you who are listening, be brave because, now that we have electronic medical records so the other care providers within your system can be contacted easily, it's not having to look up a telephone number. So be brave. You can help coordinate your care. You can ask the questions and you'll be happier at the end of the day for it.
Announcer: Want The Scope delivered straight to your inbox? Enter your email address at thescoperadio.com and click "Sign me up" for updates of our latest episodes. The Scope Radio is a production of University of Utah Health Sciences.