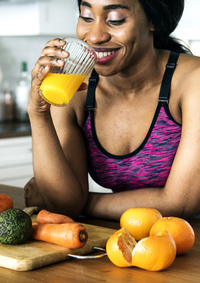 What Does it Mean to be Healthy?
Jan 6, 2014
It's your New Year's resolution to be healthier, but have you ever paused to consider what that means – to be healthier? Dr. Tom Miller says it's not that complicated. It's just about doing, and avoiding, a few things. Take sixty seconds to find out, and you might actually keep your resolution this year – and feel better too.
Transcript
Announcer: Medical news and research from University of Utah physicians and specialists you can use for a happier and healthier life. You're listening to The Scope.
Interviewer: It's New Years. A lot of people make New Years resolutions. My New Years resolution this year was just live healthier, and I'm here with Dr. Tom Miller from University of Utah Hospital. As I started thinking about that simple statement I thought well, "What does live healthier mean?" So, I thought I'd ask you.
Dr. Miller: I think it's pretty straightforward. Don't smoke. Don't drink or if you drink, drink just a little. Get plenty of exercise, eat right and manage your weight.
Interviewer: All right. Do you feel that get plenty of exercise and eat right are self explanatory in your experience?
Dr. Miller: I think most people understand that. I think we all should be eating less protein, less meat and eating more vegetables.
Narrator: So, you've been a physician for 25 years and you've basically boiled it down to three things.
Dr. Miller: Yeah, three things: Don't smoke. Don't drink, if you drink, just drink a very little bit, that's less than an ounce of pure alcohol a day. And make sure you workout an hour a day and maintain your weight. That is, keep a body mass index between 18.5 and 25.
Narrator: We're your daily dose of science, conversation and medicine. This is The Scope, University of Utah Health Sciences Radio.