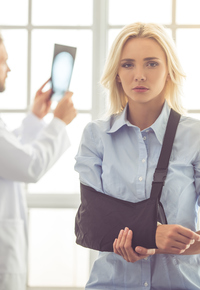 Trauma Center or ER for Broken Bone?
Jan 6, 2017
When injuries occur, patients may have choices for different trauma centers to visit. Dr. Tom Miller speaks with orthopedic surgeon Dr. Justin Haller about what a Level I trauma center is and why he recommends going to a top-level facility if one is nearby. Studies show Level I trauma centers provide better outcomes even for simpler injuries and are often better equipped and more cost-effective when treating sudden injuries.
Transcript
Dr. Miller: Break a bone, where should you go? We're going to talk about that next on Scope Radio.
Announcer: Access to our experts with in-depth information about the biggest health issues facing you today. "The Specialists," with Dr. Tom Miller, is on The Scope.
Dr. Miller: This is Tom Miller from Scope Radio and I'm here with Justin Haller. He's an orthopedic surgeon here at the University of Utah. We're going to talk a little bit about level one trauma centers. Now, you know that if you have a very severe injury, you're likely to end up at a level one trauma center, whether you're referred or end up there initially. But if you've fallen and you hurt your wrist or break your wrist, being at a level one trauma center might not even be a better place to get cure than some of the other type trauma centers, such as level two and three.
And we're going to talk about that a little bit with Justin. Justin, tell me a little bit about what trauma one means or trauma one center. And then we're going to get into how patients who have a fracture or some other musculoskeletal injury would be treated.
Dr. Haller: Sure, Tom. So the level of trauma center designation, there's a level one, level two, and level three designations for hospital trauma centers. And it's based on the number of resources that are available.
Dr. Miller: So you generally have more specialists at a level one center?
Dr. Haller: So level one has the most services available and the most services available acutely. So they have a neurosurgeon, general surgeon, orthopedic surgeon in-house, ready to see patients, depending on their acuity. Level two and level three centers have some of those resources available, but they're just not within the hospital at the time when a patient might arrive.
Dr. Miller: Now, just briefly, what kinds of injuries would a level one trauma center see?
Dr. Haller: So level one trauma centers are best at treating patients with multiple injuries that span general surgery issues, such as chest injuries, head injuries, as well as orthopedic or neurosurgery injuries because they have all the medical subspecialties available. And again, they're available acutely.
Dr. Miller: Now, you're an orthopedic surgeon. So would you say that a level one center handles all kinds of fractures and musculoskeletal injuries that happen during accidents or other strange things?
Dr. Haller: Yes. So level one centers tend to deal with the whole spectrum of orthopedic injuries that a patient could have. And they tend to see anything from referrals from level two and level three centers that are transferred and are complex enough that they do not have the resources available, as well as they see patients from a motor vehicle accident, motorcycle accident from the scene, brought in by the emergency providers.
Dr. Miller: Now, the University of Utah has a level one trauma center, as I understand it. And there are a couple in the state. So we end up getting a lot of referrals, I would guess, from outlying hospitals for severe injuries.
Dr. Haller: Yes, that's accurate. We get referrals from not only within the state but also from surrounding states, including Montana, Idaho, Nevada, Wyoming.
Dr. Miller: Well, let me ask you this, let's say you have a less severe injury. Let's say that you fall and you hurt your ankle or you break your leg or you think it's broken. I mean, would you come to a level one trauma center or should you go to another trauma center, like a level two or a level three because there are more of those?
Dr. Haller: There absolutely are more of those and some might view the access there as being a little bit better. However, the benefit of a level one trauma center is that they have all of the resources available to actually evaluate what's going on with your leg. Because when you first injure it, it can be tough to know whether it's broken or not. And they have the resources available to figure that out and treat you appropriately. And sometimes, even though the access is easier at the level two or level three centers, if it's a complex problem, you'll ultimately get referred anyway. And so it might actually turn out to be easier in the long run just to go to level one.
Dr. Miller: Well, the way that the emergency rooms work, as you know, is they triage patients. And if you have a serious injury, even if that's a fracture, you're going to go ahead of a lot of people to get treatment. You're not going to sit in the waiting room very long with a fracture, I wouldn't think.
Dr. Haller: That's accurate, yeah. Normally, patients with obvious fractures are moved along the emergency room triage board.
Dr. Miller: So before the show, we started talking a little bit about some studies that had been done to show that level one trauma centers actually provide better outcomes, even for simpler injuries. Is that something that you can talk about?
Dr. Haller: Yeah, so there have been a few studies that have looked at level one trauma centers and if they're necessary because they do have a lot of resources available, and if they're cost-effective. And they've demonstrated that level one trauma centers with specialized orthopedic trauma surgeons are cost-effective at treating patients, especially patients with complex injuries.
Dr. Miller: So to wrap it up, if you're a person that has some type of an injury and you have access to a level one trauma center, whether it's something that you think is fairly simple or maybe even more complex, you should maybe come to a trauma . . . you would recommend coming to a level one trauma center. Is that right?
Dr. Haller: I would recommend it if it's reasonably accessible, in terms of geographic location.
Announcer: Thescoperadio.com is University of Utah Health Sciences Radio. If you like what you heard, be sure to get our latest content by following us on Facebook. Just click on the Facebook icon at thescoperadio.com.