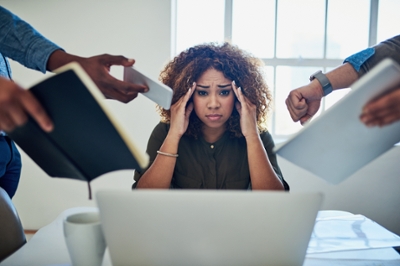 Work stress causes many problems in life and a new analysis of several studies shows it could also lead to an increased risk of stroke.
"To me, this study is very interesting because it builds on prior studies showing a lot of different kinds of stress cause cardiovascular disease," says Jennifer J. Majersik, MD, chief of the Division of Vascular Neurology for University of Utah Health, "and now we can see that work stress in particular may be causing an increase in ischemic stroke and that causes a big public health concern."
The analysis, which is published online in the medical journal Neurology, published by the American Academy of Neurology, found that people with high-stress jobs had a 22 percent higher risk of stroke than those in low-stress jobs. The risk was even higher in women—with women in high-stress jobs having a 33 percent higher risk for stroke.
Dr. Majersik points out that this was a strong study because it included over 130,000 patients from three continents and employed a widely-used measure of work stress called the Demand-Control model. This model measures work strain by dividing jobs into those with low and high demands and those with low and high control over their work. The only category of workers who had an increased risk of stroke were people in "high strain" jobs, which are those with high demands but low control. High strain jobs are typified by the service industry, such as wait staff and nursing aids. "Active" jobs, those with high demands but also high control, such as physicians and teachers, were not associated with increased stroke risk, Dr. Majersik says.
"This observation leads to the intriguing hypothesis that perhaps increasing job control in the workplace can reduce stroke risk," she says.
Employers could take steps to reduce stress on workers. "Though not proven, it's possible that increasing job control by implementing telecommuting and flexible work hours and allowing decision making to not be as top-heavy, allowing people to make decisions about their own jobs, may improve job control, alleviate job stress, and reduce stroke risk at a population level," Majersik says.
"While the study shows an increased risk of stroke, we don't yet know how stress leads to increased vascular disease," Majersik adds. "Scientists have theorized that high-stress jobs cause unhealthy behaviors like eating poorly or not exercising or, alternatively, that work-related stress causes activation of stress hormones and inflammation, leading to unstable plaques or even abnormal heart rhythms. This study doesn't answer those questions."
For those in jobs where change is not likely to occur, Majersik says it is important to control the other factors that could increase stroke risk. "Make sure your blood pressure is controlled, eat a healthy diet, and exercise regularly," she says.
It is also important to look out for the signs of stroke and get help immediately if you suspect something is wrong. "Symptoms include numbness on one side of the body, and the loss of speech or movement," Majersik says. "If any of these symptoms are observed, the faster you get help, the more likely you are to regain function."