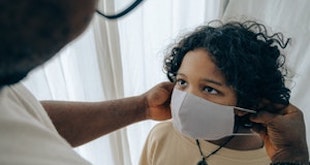 "Signs of greater than normal anxiety in children include being tense and worried, often resulting in almost constant need for reassurance by adults," said Philip Baese, M.D., a psychiatrist with Huntsman Mental Health Institute. "It is important not to simply dismiss their worries, but it is also important not to overreact or excessively reinforce a child's worries."
Taking on the COVID-19 pandemic has become a battle with two fronts. While we are rightly focused on vaccines, masking, and social distancing, many of us are not paying enough attention to the mental health crisis that is a side effect of our necessary emergency efforts.
In some ways, children have been hit hardest by the mental health aspect of the pandemic. Their worlds have also been turned upside down and their routines completely uprooted—only they have much less experience dealing with anxiety and understanding how to care for their own mental health.
"Signs of greater than normal anxiety in children include being tense and worried, often resulting in almost constant need for reassurance by adults."

Philip Baese, MD
Parents, guardians, and adult family members can do much to help children address this anxiety. Children can struggle at any age, and helping them ease their anxiety begins by recognizing it in the first place.
Here are a few strategies you can use to help children tackle their anxiety:
1. Establish a healthy routine
Children thrive with a well-structured home routine, especially when they see so much external uncertainty and are missing the routine of their daily lives. Creating healthy patterns that include regular mealtimes, daily exercise, and good sleep habits will help provide calming patterns for everyone in the home.
2. Listen carefully and monitor closely
Catching the signs of anxiety early can help keep children from falling into deeper mental health challenges. Check in often and watch their behavior carefully. Here are a few common signs:
Difficulty controlling their mood
New sleeping challenges
Frequent headaches or stomach aches
Seeking frequent reassurance
Fearful about separating from parents
If you do see children struggling with symptoms of anxiety, help them establish coping skills, like identifying what they are feeling, taking deep breaths, and finding a place where they feel calm and safe.
3. Keep your own anxiety at arm's length
Modeling healthy behavior is also important, and adults can minimize how they transmit their own anxiety onto children. By helping your child see how you are focusing on what you can control and encouraging them to think positively, you can ease their fears and teach them additional ways to manage their anxiety.
4. Stay connected outside of the home
Maintaining social distance doesn't mean you can't still connect with people. Especially for children who previously attended school outside of the home, much of their social interaction has been completely cut off. Scheduling safe playdates with friends, including through Zoom or other technology, will help alleviate fears and provide healthy outlets.
5. Seek professional help
In spite of our best efforts, sometimes we can't overcome mental health challenges on our own. Checking in with a professional doesn't need to be a last resort, either. Many resources are available to help children—or their adults—deal with anxiety, including online therapy and telehealth.
A medical professional is always available to help if you have long bouts of depression or symptoms you just can't shake. Contact Huntsman Mental Health Institute to get help or learn more, or reach out to these resources:
If you are feeling depressed, anxious, lonely or having a personal struggle and need someone to listen, call the Utah Warm Line at 801-587-1055.
If you or a loved one is experiencing a mental health crisis, call the Utah Crisis Line at 1-800-273-8255.