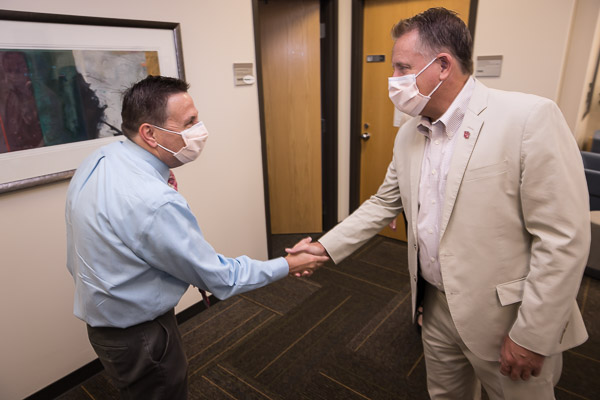 Recently University of Utah President Taylor Randall visited Huntsman Mental Health Institute (HMHI) to tour the hospital and clinics and learn more about the innovative research, training, and clinical programs at HMHI. Together with Mark H. Rapaport, MD, CEO of HMHI, President Randall visited the Treatment Resistant Mood Disorder (TRMD) Clinic, KidStar and TeenScope day treatment programs, and the adult and child inpatient units. He also visited HMHI's education suite and heard presentations from prominent clinicians and researchers at HMHI about their unique and groundbreaking projects.
"It is such an incredible opportunity to see first-hand some of the work being done to further mental health. With the unbelievable depth of talent that we have at HMHI, we can prioritize mental health care to create better outcomes for everyone."

Taylor R. Randall, University of Utah President
President Randall first visited the TRMD Clinic and spoke with Brian Mickey, MD, PhD, about the psychiatrists, nurses, and support staff who are uniquely trained to treat medication-resistant mood disorders. Each year, the TRMD Clinic treats hundreds of patients for disorders including depression and bipolar and schizoaffective disorders.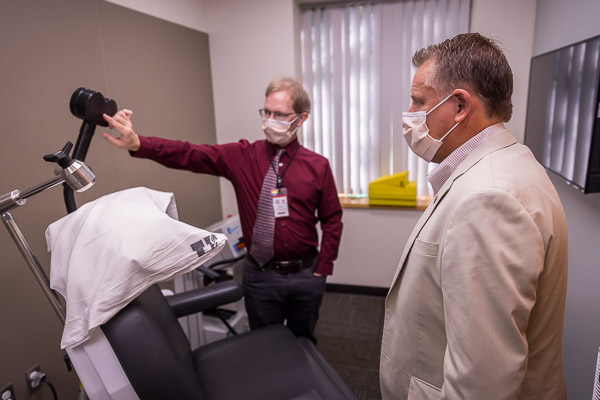 Then, President Randall visited KidStar, a daily treatment program for children 5-12 years of age that assists in clarifying the diagnosis of children with emotional and behavioral challenges, and TeenScope, a treatment program for teens ages 12-17. He spoke with Amanda Weeks, PsyD, and Clinical Services Director about the clinics.
Next, President Randall visited the education suite at HMHI and spoke with Kristi Kleinschmit, MD, and Vice Chair of Education for the Huntsman Mental Health Institute about the incredible training and residency programs and opportunities at HMHI.
"The psychiatrists and other professionals we see coming to HMHI are some of the best in the country." President Randall said, "HMHI and the people here are one of the assets we can highlight to show just how incredible our school can be."
Finally, President Randall visited the adult and child units at HMHI, speaking with Roxanne Bartel, MD, Tracy Farley, Director, Behavioral Health Adult Services, Thomas Conover, MD, and Stuart Vineyard, Nurse Manager.
After the tour, President Randall listened as nearly a dozen researchers and clinicians at HMHI gave presentations on the state of their work and the progress they are making in a wide variety of fields ranging from addiction recovery to depression and anxiety.
"It was an honor to hear from all of you and to get a glimpse at the incredible work you all are doing." President Randall said in his closing remarks. "HMHI will be a focus for us going forward. We want to be a mental health leader in Utah, the country, and the world."