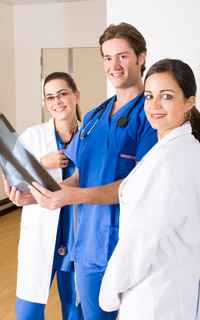 Med Student Mentor: How to Make a Good Impression on Your Attending Physician
May 16, 2014
Medical students must make the best impression on their attending physicians that they can, but doing so without being overbearing and in a short amount of time can be difficult. First-year med student Kara Arnold gets some tips from fourth-year Bob Chestnut about things you can do and shouldn't do to create a good impression to get the recommendation you want.
Transcript
Recording: Medical news and research from University Utah physicians and specialists you can use for a happier healthier life. You're listening to The Scope.
Interviewer: We're talking to Bob Chestnut. He's a fourth-year medical student at the University of Utah School of Medicine.
I'd like to talk to you a little bit more about creating those relationships with your attendings, your doctors that you're working with, and how you create those relationships.
Bob Chestnut: A lot of physicians and attendings have a lot of interesting stuff that they're doing. On top of their practice they'll also be doing research. Obviously they have other stuff that they do as well. And so a great way to get involved and get to know a physician is to get involved with the research that they're doing.
And generally they're very enthusiastic about sharing it. They are happy that someone is showing interest in what they're doing. And so that's a great way to establish and also to prove to them that you are someone who can buckle down, get results, and that you're willing to put in a strong effort on someone else's behalf.
Interviewer: During your rotations in third and fourth year you are usually working with that doctor from maybe a week. How do you create a lasting impression on that doctor's mind that they can come back and write you a letter of recommendation, or just be a great mentor? How do you make that impact in so little time?
Bob Chestnut: Oftentimes, I think you can get to know someone and have them get a good feel for you in a lot less than a week as well. An example for that would be during third year while you're on your pediatric rotation you rotate with a new attending every single day, and sometimes a different one in the morning from the afternoon. And a fair amount of students don't like this because they feel like it's not enough time for an attending to really make a good evaluation of them.
But my personal experience was that the best evaluations I got and the most personalized evaluations I got actually came from those physicians during that time.
Interviewer: Do you think those physicians looked more towards your competency within the workplace and your skills, or more who you are as a person?
Bob Chestnut: You know, I think it's both; and so I think that to a certain level you do have to prove yourself. Often times we get caught up in trying to know everything, and come across like we know everything, but I think many people respect you being willing to put yourself out there, with you being willing to be comfortable with being uncomfortable and pushing the limits of what you know. Many people will respect you when you say, I don't know.
Interviewer: Cool.
Bob Chestnut: So I would argue that someone can actually get to know you very well if you go there and you're engaged, and they can see that you're trying to learn and you're trying to put the best foot forward.
Interviewer: Why did you feel like it was the case that you can just one day, one hour with a person you can make that impression?
Bob Chestnut: Honestly I think there's a certain advantage to being there for just one day, being that you don't actually have to be proactive 24/7, but you actually just have four hours with this physician, maybe five hours, and you can be exceptional for five hours.
Interviewer: How do you negotiate the line between trying too hard and seeming like that gunner with your attending physicians versus just being yourself and being that proactive student that doesn't look like a crazy?
Bob Chestnut: You're right; it is a fine line. And I've seen it in myself as well as other students where we want to be relaxed. We want to be ourselves, so we'll go to do a patient presentation, and we'll purposely make it a loose patient presentation, because we don't want it to look like it's been memorized and been rehearsed.
When really if we wanted to make it more formal we could; and it took me several months of third year to realize, you know, I should probably be making these more formal. I'm the one who is watering these presentations down and really delivering a little bit lower than what I could, because I'm telling myself that this is being myself.
And so once I kind of shelved that idea, I started pushing myself to include a little bit more in my presentations, be more assertive about wanting to include another tidbit that I had learned when reading about the patient, really demonstrating that I knew the patient better; but doing it because I do have a genuine interest and it's okay to let that genuine interest show.
Interviewer: Thank you for your insight into third year. Is there anything else we should know about how to impress your attending physician, or how to create those lasting relationships with doctors?
Bob Chestnut: A great thing to do is to allow your physician to see that you are present in your patient care. And so a point of difficulty for many students is you phone. Your phone is a fantastic resource. You can look up drugs and different things on your phone. It can help you with a lot of things, but it does look like you're texting someone when you're using your phone.
And some attendings will be very proactive about this and they'll tell you to not use your phones or they'll actually have you switch your phone into . . . and I don't know what the mode is, but it's the mode where you can't make phone calls, or send text messages. So be conscious of that.
Another thing would be when doing a patient presentation, if you've looked at the literature, if you've looked up a paper, I think that it's very helpful to print out that paper and to go through it and then on the back of that paper summarize it very briefly in your own words, so the attending can see that you've actually not only found this paper, but you've actually digested it and you are now interpreting it for the benefit of this patient.
Recording: We're your daily dose of science, conversation, medicine; this is The Scope, University of Utah Health Sciences Radio.