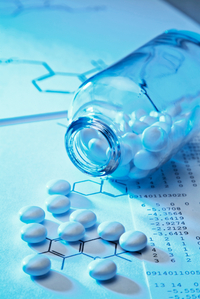 Accounting for Differences in Sex, Gender Make Research More Accurate
Aug 26, 2014
Recent evidence has revealed flaws in past research based on sex and gender. Jean Shipman, Director of the Spencer S. Eccles Health Sciences Library talks about new research that looks at differences in sex and gender. From medicine dosages to surgical implements, sex and gender are being re-examined as important factors to be included in future medical research.
Transcript
Interviewer: Men and women are very different. Nobody would ever argue that, but up until recently, in the eyes of researchers, they're exactly the same and that's a problem. We'll discuss that next on the scope.
Announcer: Medical news and research from University Utah physicians and specialists you can use for a happier and healthier life. You're listening to The Scope.
Interviewer: It might shock you to find out that when it comes to research, a lot of times, women aren't even considered in research and we're going to find out more about that now from Jean Shipman. She's the director of the Spencer S. Eccles Health Sciences Library. Let's talk a little bit about this what is it called, gender bias in research?
Jean Shipman: Sex and gender differences in research.
Interviewer: All right. So explain a little bit what that means.
Jean Shipman: Well, sure, sex and gender. Sex means male or female, the biological difference between the two, and gender is more who you identify with. So you can be male, but have more feminine tendency or desire or understanding of the world. And so, lately, researchers are becoming more aware that there is a need to look at these populations differently.
Interviewer: Okay. And, what, give me in real terms what that means.
Jean Shipman: Yeah, let's say I'm a researcher and I'm looking at the population. Most of the time, I'm referencing the male population. Historically in literature, that's who has been documented. Now, I need to pay attention that there are differences physiologically between men and women and it could affect dosage, it could affect physiological uptake of medications, but there is a difference that has to be recognized.
Interviewer: So wasn't there a story on 60 Minutes recently about this very thing?
Jean Shipman: There was. It was Ambien, the common drug is diagnosed, they found, double the dosage for women. And who knew, but they found out that everyone was being given the same dosage, but the uptake of it is twice as much in women, so they were being double dosed.
Interviewer: So if I understand correctly, they were just looking at, you give this much per body weight, and it was all based on men, but women actually process it differently, so that was inaccurate.
Jean Shipman: Exactly.
Interviewer: And I'd imagine that happens in a lot of other instances as well.
Jean Shipman: I'm sure we're just starting to uncover how often that's happened.
Interviewer: Yeah. Wow. So is it really that widespread that research, so when we're researching any of our health concerns, we really just look at men for the most part?
Jean Shipman: Well, I think in the study design, people are asked to look at all kinds of subjects - men, women, children, and document, but when you're actually looking at tissue or specimens, I think male tissues have been used and not so much women. And, also, I think we're seeing that women's needs are very different as far as the healthcare that they receive.
Another example is in developing medical devices. With surgical staplers, who knew that there would need to be a difference between men and women, but women have less pressure...
Interviewer: Yeah, like hand strength.
Jean Shipman: Yeah, hand strength so...
Interviewer: And smaller hands many of the times.
Jean Shipman: Exactly. So they have difficulty getting the stapler to work in surgeries and yet more women are becoming surgeons, so. We need to take that difference into account.
Interviewer: Wow. It's kind of shocking, isn't it? That nobody has really done this before so...
Jean Shipman: Yes.
Interviewer: You've received a grant from the NIH. Tell us a little bit about that grant and what it hopes to do.
Jean Shipman: Sure. The Office of Research of Women's Health and the National Library of Medicine have recognized this need to encourage more researchers to think about the differences between men and women and gender differences. So they have solicited about ten libraries across the country and given us subcontract money to make our university personnel a lot more familiar with this issue.
Interviewer: Yeah.
Jean Shipman: And we've gotten two rounds of funding and we've looked at social media as a mechanism for making people more aware of this need and the differential research. We've looked at videos. We're looking at the podcast that we're doing today as a way to educate people about the importance of this. We also will be having a symposium on campus in September.
Interviewer: Okay and all the goal is to just get people to start thinking, researchers, specifically, to start thinking in terms of gender, not sex.
Jean Shipman: Or both.
Interviewer: Or both.
Jean Shipman: Yeah. The idea that you do need to account for the physiological as well as the social, economic, cultural differences.
Interviewer: Yeah, that, that there are differences, just to be aware of that. Ultimately, what's the goal of this program then? What do you hope would come out of it at the end of the day?
Jean Shipman: The ultimate goal would be everybody I talk to would understand that there is a need to think about these two things differently. Personally, I didn't realize the difference between sex and gender until getting this contract money.
Interviewer: And you're a woman. You should...
Jean Shipman: I know.
Interviewer: ...be more sensitive to this, right?
Jean Shipman: I know. I had the inkling that we weren't be represented equally but let me just say that it did surprise me that sex was biological and gender was more of a cultural.
Interviewer: Yeah.
Jean Shipman: That I always heard them being interchanged and, if you look at the literature, it's misconstrued a lot of times as being one in the same, and they're not, so.
Interviewer: So I think an important thing is if you are a researcher, you now know a little bit better. If you're not a researcher, you know somebody that is, share this podcast with them. And you're just looking for at, first for a paradigm change.
Jean Shipman: Right.
Interviewer: Just to start considering it.
Jean Shipman: And, as a consumer, I would say you could ask your doctor, "Well, you know, I am a woman. Does this make a difference in how I should be taking this medication that you're treating me with," or you know, be a little more assertive in asking that question.
Interviewer: Yeah. And just talking about it in general, I think...
Jean Shipman: Right.
Interviewer: ...would be a good idea.
Jean Shipman: Right. And I think we'll see more and more in the news about this. I know NIH is starting to require researchers include tissue samples from women as well as men in their basic science studies. So there'll be more governmental, kind of, endorsement, of encouragement of this use of the difference in the terms.
Interviewer: Who knew that women were still being discriminated against? We thought we thought we got past this whole thing didn't we?
Jean Shipman: Oh, I think we have a long way to go. But, but I'm pleased to hear that there is more awareness being built about this and that libraries, particularly, were addressed as a unit that could be the educators within their universities, being neutral and central.
Interviewer: And because you have a contact with a lot of researchers that use you as a resource.
Jean Shipman: Exactly, and that we can help to shape the evidence of the future.
Announcer: We're you're daily dose of science, conversation, medicine. This is The Scope. University of Utah Health Sciences Radio.