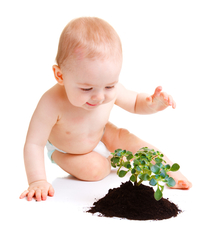 The Dirty Truth About Babies, Asthma and Allergies
Jul 17, 2014
Just about anything an infant grabs hold of goes directly into his or her mouth. New theories on immune system development may help to explain this behavior. Dr. Kirtly Jones explores the rise in asthma and other allergic reactions and the possible correlation to life in the "ultra-clean world" of sanitizing wipes and sterilized binkies.
Transcript
Dr. Kirtly Parker Jones: "Don't put that in your mouth." How often have we said that our babies on the floor, who picked up the dog's bone and starts to chew on it? We try to keep our infants safe from diseases by keeping them away from anything dirty, by keeping their environment ultra clean. But maybe a little dirt in our infant's beginnings helps them in the future life. This is Dr. Kirtly Jones from the Department of Obstetrics and Gynecology at the University Healthcare, and this is the down and dirty about babies and allergies today on The Scope.
Announcer: Medical news and research from the University of Utah physicians and specialists you can use for a happier and healthier life. You're listening to The Scope.
Dr. Kirtly Parker Jones: How does our body learn what the immune system should fight off and what it should accept? The immune starts developing in the womb, but the real work begins at delivery. The bacteria that are very important and populating the newborn's gut comes from the mother's vaginal flora and her skin, and the bacteria the baby experiences is in early life.
Having a lot of different bacteria is a good thing. Babies born by a Caesarean section without labor have more asthma, more autoimmune diseases, and eczema. But what about after birth? We evolved our immune system by living in the dirt, not with hand sanitizer. It's a good thing not to be allergic to your environment, so what is the evidence that we should let our babies suck on their pacifier when it falls in the dirt or chew on the dog's bone? Today, we're going to talk about babies and allergies.
It's long been known that many of the autoimmune diseases that we see in the U.S.; asthma, eczema, autoimmune colitis like Crohn's Disease are very rare in third world countries or, to be politically correct, developing countries. A mounting body of research suggests that exposing infants to germs may offer them greater protection from illnesses such as allergies and asthma later on in life. There's something called the Hygiene Hypothesis which holds that when exposure to parasites, bacteria, and viruses is limited early in life, children face a greater chance of having allergies, asthma, and other diseases later in adulthood. In fact, kids with older siblings who grow up on a farm or who attended daycare early in life seem to show lower rates of allergies.
Just as a baby's brain needs stimulation, input, and interaction to develop normally, the new research is read to your kid from birth, not just put them in front of the TV, the young immune system is strengthened by exposure to everyday germs so that it can learn, adapt, and regulate itself.
It's been observed that infants from farm families, especially those with older siblings, have much less asthma and allergies to pets or other animals. I think old siblings thing is that the older sibling puts their dirty hands on the infant, and this is not such a bad thing, as it turns out. It is innate behavior of infants to pick up everything and put it in their mouths, including their hands, their feet, and anything they can reach. Well, maybe there's a reason for that. They aren't hungry, and adults don't do that. Even children over 3 don't do that anymore. So maybe they are priming their gut with bacteria to help them later in life. That's just a guess.
Recently, it's been shown that bacteria in the newborn's gut are important in regulating the developing immune system. And finally, a new study from John Hopkins looked at asthma in inner city children. Infants were followed from birth to 3 years. Now, we know inner city children have high rates of asthma and triggers include cockroach droppings, mouse, and cat dander. So they tested these children and their homes for these exposures as well as doing a quote "bacterial analysis" of their home. Infants who were exposed to cockroach droppings, mouse, and cat dander and a wide variety of bacteria had a 17% incidence of wheezing by age 3 compared to 51% of wheezing in kids who weren't exposed to these factors as infants. Wheezing in early childhood can be a sign of future asthma in children. The important and curious fact is the exposure has to happen in the first year of life to be protected.
We know that our fear of germs and our babies comes from the knowledge that around the world, the number one killer of newborns is infectious diarrhea from unclean water, so we don't want to expose our kids to bacteria and unclean water and from people who are sick. These germs are sick people germs, not from the environment. We should take care about exposing our infants to people with diarrhea and upper respiratory tract infection, but I'm talking about crawling in the dirt.
So what should we do as moms and grandmas? If the child is otherwise healthy and doesn't already have a compromised immune system from disease, its okay to let the dog lick the baby's face, and the binky doesn't have to be sterilized if it drops in the dirt. Let the infant sit or lay on the ground or the floor. A little dirt won't hurt her none. So that's the down and dirty about babies and their developing immune systems. Stay tuned because this is an area of research that's growing very quickly, and thanks for joining us on The Scope.
Announcer: We're your daily dose of science. Conversation. Medicine. This is The Scope. University of Utah Health Sciences Radio.