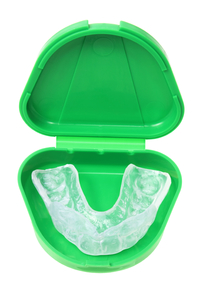 Mouth Guards: A Simple Way to Save Your Smile
Jun 23, 2014
Many teens and adults don't wear mouth guards for sports, but an accident in these activities can ruin a million-dollar smile in seconds. Oral surgeon Dr. Bryce Williams talks about how many of the procedures he's done could have been prevented by these simple devices. He also discusses how you can get mouth guards for cheap and why they are a great investment.
Transcript
Interviewer: Do mouth guards really make a difference for your kids teeth? We'll find out next on The Scope.
Announcer: Medical news and research from University Utah physicians and specialists you can use for a happier and healthier life. You're listening to The Scope. Interviewer: We're with Dr. Bryce Williams he's an oral surgeon in the Ear, Nose and Throat Department of the University Utah Hospital. Mouth guards and kids, let's talk about that for a second, do you recommend kids wear them, I think I know the answer it seems like an obvious one to me.
Dr. Bryce Williams: If you ask any dentist, oral surgeon they'll say yes. Not wearing a mouth guard you're at twice the risk for an injury to a tooth or to your jaw and then someone who's wearing a mouth guard.
Interviewer: Two times? And those types of injuries, give me how significant that is, what I mean is at the end of the day.
Dr. Bryce Williams: Well it could range all the way from breaking off a small part of usually it's a front tooth which for most people that's pretty significant, as far as cosmetically, to actually a fracture of the upper and lower jaws which can require some kind of major surgery.
Interviewer: Really, wow. So mouth guards what types of sports should the kids be wearing them in?
Dr. Bryce Williams: Really any sport, where any kind of contact sport are in any sport where there's a risk of falling. So football, hockey, certainly skiing, playing tackle football.
Interviewer: Skiing really? Interesting. Tackle football keep going with your list.
Dr. Bryce Williams: Tackle football
Interviewer: I'd imagine soccer
Dr. Bryce Williams: Soccer for sure.
Dr. Bryce Williams: A ball in the face, that's no fun.
Interviewer: Is there a sport in particular that's really notorious for injuries?
Dr. Bryce Williams: I think in football is pretty well guarded even in the full face mask on but I think that - and even baseball as well. I've seen several injuries from a ball or from a bat in people playing baseball.
Interviewer: So I understand how the mouth guard might protect my teeth but how's it is protecting my jaw?
Dr. Bryce Williams: It protects your jaw by allowing the teeth to come together when you get hit. And having the teeth together when you get hit, protects the jaw as well.
Interviewer: Alright. What about you see the helmets with the jaw guard on them?
Dr. Bryce Williams: Yeah I see more and more of those when I go up skiing and I don't think there's any literature as far as those are concerned at this point but I think it's probably good idea especially people that are skiing very fast and doing very tricky maneuvers. Certainly it can help to protect your lower jaw.
Interviewer: Do you ever find yourself in a situation where you just want to scream? You just want to say put a mouth guard in.
Dr. Bryce Williams: You always see a teen age kid with perfectly white teeth come in and they been playing tackle football in the park with their friends and they've broken two of their front teeth and they're very distressed and in those situations I just want to take them by the shoulders and say wear a mouth guard next time. Especially, after you get fixed.
Interviewer: What age should kids start wearing mouth guards?
Dr. Bryce Williams: Most dramatic event start to happen when kids are playing sports. So typically between ages 8 and 10 years old. Sometimes it's difficult for a general dentist to make a mouth guard fit a patient choose teeth are erupting and changing all the time. In those cases, it's fine to go to the store and buy a store-bought mouth guard to wearing and change every so often when the mouse grows or changes or a new tooth comes in.
Interviewer: So is one type of mouth guard better than another type of mouth guard?
Dr. Bryce Williams: I think with mouth guards there's several different types, you can buy the kind at the store that you can boiling water and adapt to your teeth. I think those are very good but the best kind of mouth guard you can get is one that's custom- made by your dentist and the reason those are better is they adapt to your teeth. They're fit to the relationships of your jaw and they're less likely come out while you're playing sports or other activities.
Interviewer: What's one of those cost, roughly?
Dr. Bryce Williams: It depends on the dentist but sometimes it's covered by insurance.
Interviewer: Oh really?
Dr. Bryce Williams: So sometimes you don't have to pay very much at all.
Interviewer: No excuses.
Dr. Bryce Williams: No excuses.
Interviewer: No excuses to mess up those teeth.
Dr. Bryce Williams: Absolutely.
Announcer: We're your daily dose of science, conversation, medicine. This is The Scope. University of Utah Health Sciences Radio.