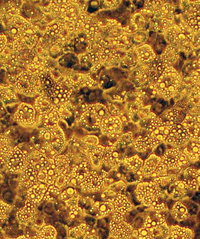 Brown Fat Stem Cells – The Good Fat
Jan 13, 2014
Fat tends to get a bad reputation, but not all fat is bad – brown fat is actually good for you. Not only does it help you stay thin, it also has amazing healing powers. Dr. Amit Patel discusses the difference between good and bad fat, why brown fat is considered good fat, and why it might be rare in adults. He also talks about potential ways to increase the amount of brown fat in the body.
Transcript
Announcer: Medical news and research from University of Utah, physicians and specialist you can use for a happier and healthier life, your listening to the scope.
Interviewer: Your fat tends to get a bad rap but there is good fat, it's called brown fat and not only does it help you stay thin it has amazing healing powers that you might not know about. Dr. A Patel, director of clinical regenerative medicine at the University of Utah, Tell me about brown fat and how fantastic it is.
Dr. Patel: It's a great question, everyone thinks fat is fat, and really there's two types of fat, there's white fat and there's brown fat. White fat is the big cells that make you gain weight give you heart disease, diabetes, metabolic syndrome, all these bad things. But if you think of little kids, they can eat thousands of calories and until they start getting older they don't lose that, everyone thinks their metabolism is slowing down but what it is, is they're losing their brown fat. When you're really young you have what's called brown fat and brown fat is very unique, it's very metabolically active so that's a fancy term that means it has a lot of horsepower in it,. It's having a little car with basically a big v8 engine, where white fat is a really big car with basically a 2 cylinder engine.
Interviewer: Yeah, it takes up a lot of space but moves real slowly.
Dr. Patel: And that's how most people feel when they get to fat, so what we've done is we've been able to identified a brown fat stem cell in actual patients. And everyone believes it's in kids but we found actually that you could find this even in patients who are 80 years old. The problem is as you get older you get fewer and fewer cells, these cells start dying off. So our goal was how do we one; identify these cells because then we can say can we look at this brown fat stem cell as a potential target for new drugs or new therapies where we can take grown ups who actually have diabetes, metabolic syndrome, all these bad things that can make you die from heart disease and look at a drug that could actually make you increase your own brown fat stem cells or can we grow these brown fat stem cells outside your own body and put them back into you and use them as a target for the diabetes, the weight gain.
Interviewer: So just to be clear, up until just recently it was believed that brown fat existed really in adult humans
Dr. Patel: Yeah, and that surprising, it's one of things that just because no one was able to identify it no one believed that you could actually find it or did it exist. This is incredible because this is something where obesity is an epidemic in the U.S. and there are millions of drugs, medications, fad diets and everything there but there's so little science to support it. This is where science is finally starting to catch up in saying what are we missing? Or what was there when we were younger; or what do bears have that lets them hibernate, and that's brown fat, that's what they have too? So, how do we harness the power of brown fat and not just say well we need more of it but how do we actually develop this in a safe reproducible manner that potentially may actually become not only a cell therapy but also a drug therapy to increase your body's own ability to produce more brown fat as you get older.
Interviewer: What's the biggest challenge that you're facing? You said this is in very early stages.
Dr. Patel: The biggest challenge with brown fat stem cell is that there's so few of them so how do you safely grow them in a large enough, make billions of these so we can study them better and actually make them potentially available for therapy because the goal would be you'd need trillions of cells to start looking at how could you use this as a therapeutic model or basically how would you treat patients with this. So growing them we've been able to identify them now how do you scale up to do the experiments to say does this really work in patients
Interviewer: So children have a lot of brown fat, as you grow older it decreases so your body is getting rid of it for some reason apparently.
Dr. Patel: Well one of the reasons the brown fat originally is what's called a thermal regulator, basically regulates heat, so when you have a shiver response when your young and you don't have a lot of fat, it generates heat. That's even in small animals and things like that. That's what brown fat is used for is to generate heat, regulate body temperature, and as you get older because you get more white fat you basically form your own insulation and you don't need , so it's a natural way of the body to say well if i don't need this cell I'm going to start getting rid of it. the problem is when your own body starts decreasing the amount of brown fat it's thinking I don't need it to produce heat, but we lose the ability to regulate a lot of other things such as fat, sugars, and all that so it's sort of a bad side effect of getting the white fat on board. So the more insulation you have the less metabolically functional or the less efficient you are. You become energy inefficient by having too much insulation.
Interviewer: So if I was to stay very lean and thin and keep the white fat off, would I be more likely to have more brown fat then?
Dr. Patel: You would be, the thinner you are the potential to more brown fat as you get older is much higher.
Interviewer: What's your final thought on this?
Dr. Patel: So brown fat has huge potential both for therapy, for diabetes but also just studying how the body works so we can find better ways to safely develop therapies to treat obesity, type II diabetes, and heart disease which is the number one killer of patients in the U.S.
Announcer: We're your daily dose of science, conversion, medicine. This is the Scope. University of Utah Health Sciences radio.