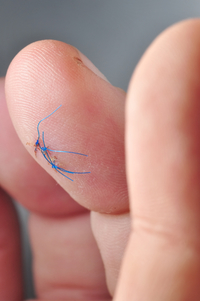 ER or Not: Stitches
Feb 26, 2014
You accidentally cut yourself. Do you need stitches or will a bandage work just fine? Emergency room physician Dr. Troy Madsen goes through some of the scenarios that would require you to visit the ER for stitches. He also talks about at-home alternatives for stitches when the cut isn't severe enough for the emergency room.
Transcript
Scot: Is it bad enough to go to the emergency room, or isn't it?
Find out now. This is ER or Not on The Scope. Time for another addition of ER or Not with Dr. Troy Madsen, Emergency Medicine at University of Utah Health Care. Here's the scenario. Decide if you need to go and then we'll get the answer from Dr. Madsen. I cut myself, do I need stitches? ER or not?
Dr. Troy Madsen: So cuts are tough. It's one of those things that I always think to myself, "Man, if I were out traveling and I had to go to the ER for a cut for stitches..." You know, it's not a fun situation to be in because usually you're waiting for three or four hours to get in. You know it's really a great question, "Do I really need stitches on this?"
If you look at the wound and you look at the cut and the edges are gaping, or they're not together, then that's a sign you need stitches. The big thing stitches do is they just pull the wound together. They hold it together to make sure that it heals up nicely.
It becomes a much bigger concern if it involves the face. There we worry much more about cosmetic outcomes and making sure things look okay. If the wound is open, if you're seeing tissue coming out of it, maybe things you know that look a little bit deeper than the skin, those are all signs that you probably are going to need stitches.
Otherwise, if that's not the case, you can try a bandage on it at home. There are some things I've seen at the store; actually, liquid bandages they call them. It's kind of similar to some stuff we use in the ER. It works pretty well for holding these lacerations and keeping dirt and things like that getting in there if it is something more minor that doesn't need stitches.
Scot: Is this an Instacare thing maybe?
Dr. Troy Madsen: Sure. Absolutely. Instacare is the perfect place for this kind of thing. A great place you can usually get in a little more quickly than the ER. Get that sewn up. If there are a lot of big concerns with bleeding, a lot of blood coming out of that or if you are having trouble feeling in your hand... Let's say you've got a cut down further on your wrist and you lost sensation. That's a reason to come to the ER because we might need to get a hand specialist to see you. Urgent Cares are a perfect place for these things otherwise.
Announcer: We're your daily dose of science. Conversation. Medicine. This is The Scope, University of Utah Health Sciences Radio.