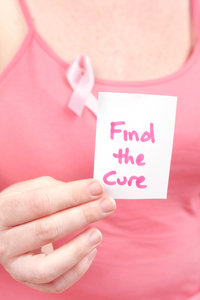 New Treatments for Breast Cancer
Mar 12, 2014
Breast cancer is the second leading cause of cancer deaths in women; about 1 in 8 women will develop breast cancer in her lifetime. Dr. Vivian Lee and Dr. Alana Welm discuss some of the misunderstandings about breast cancer, and Dr. Welm's research on new breast cancer treatments. They also talk about a woman's chances of developing breast cancer, and if men can get the disease.
Transcript
>Announcer: Medical news and research from the University of Utah physicians and specialists you can use for a happier and healthier life. You're listening to The Scope.
Dr. Lee: Good afternoon, everyone. Welcome to the show. I'm your host, Dr. Vivian Lee. I'm the Senior Vice President of the University of Utah Health Sciences. Today, we're going to talk about breast cancer. About one in eight women will develop breast cancer in her lifetime, and it is the second leading cause of cancer death in women.
One of the misunderstandings about breast cancer that we're just starting to understand now better is the fact that breast cancer is not just one disease, but it's actually many different diseases. That's a really important point to understand. Because breast cancer is different diseases, it means we have to have different treatments for women with breast cancer.
My guest today is Dr. Alana Welm, who's a researcher at the University of Utah's Huntsman Cancer Institute. Dr. Welm and her colleagues are making news all over the world because they have found a way to grow pieces of a woman's breast cancer in mice, and that's really going to transform the way we think about breast cancer treatment.
Now, I have read that your research means that we're going to treat women in a very different way where in the past we might try a treatment and it may work or it may not work. The women almost feel like they might be guinea pigs because we don't know how to treat them. Instead, your approach with these mice is almost like making a guinea pig for every patient. Is that a fair description of your work and its implication?
Dr. Welm: That's right. It's a science that's telling us now that breast cancer is probably more, like, ten different diseases. Currently, in the clinic, it's treated as though it were, really, three types of breast cancer. What we're doing is trying to personalize the therapy so that we can grow an individual person's tumor in a mouse and actually use that mouse or that tumor line as a way to determine what are the best therapies for that particular women are.
Dr. Lee: Well, if there are really ten different types and we only know about three, then what does it mean if a woman comes in now? If a woman comes into our clinic at the Huntsman Cancer Institute, how do we treat them now?
Dr. Welm: Currently, breast cancer is heavily over treated, believe it or not. So, we really are treating ten women for the benefit of three. We know that about 30% of breast cancer patients will go on to develop a relapse or a metastasis, and metastasis is what kills patients with breast cancer. Because we cannot determine which three women out of the ten will go onto develop metastatic disease, they are almost all getting treated with really toxic chemotherapies. So one of the goals of our study is to be able to use these tumors grown in mice to determine which ones are the most aggressive ones and then modify treatments according to that particular tumor.
Dr. Lee: One of the most interesting aspects of your work was that when you took these pieces of a woman's breast cancer and you put them into mice, the behavior of those tumors actually was just like when they're in people, right? They not only grew like breast cancers, but they also metastasized. What was it about how you did it that was different from what everyone else had previously tried to do and failed?
Dr. Welm: What we did was expand on an idea that we don't want to culture the tumors before we put them in the mice. So we don't want to put them in the lab on a petri dish like everybody had done before. Instead, we put them directly into the mouse breast tissue or the mouse mammary gland. This environment is so much like the human breast that it allowed these tumors to not only grow, but also to behave very similar to how tumors behave in patients.
Dr. Lee: One of the questions that came to my mind when I first read about this research was, won't it be easier to just take a piece of the breast cancer tissue, look at the DNA of it, and then figure out which of those ten types it is just from that?
Dr. Welm: We are doing that. We're examining the mutations in individual tumors. However, we believe that you have to combine some functional analysis of the biology of that tumor together with the genetic information. So just knowing that there's a mutation in a gene doesn't necessarily tell us about how that tumor will behave in terms of metastasis or in terms of response to therapy. Our idea is to really combine that genetics analysis with a functional assay of tumor biology and tumor behavior in order to make the best treatment decisions.
Dr. Lee: It's sort of, like, that old line that it's not just the genes but the genes and the environment? Just putting some of those breast cancer cells somewhere in the mice, but that didn't work but putting it in the breast tissue itself worked. So there's something about the genes and environment relationship that's important.
Dr. Welm: That's exactly right. The other advantage to using this type of an approach is being able to modify the genetics of a mouse in concert with asking about tumor biology gives us a chance to actually examine the interaction between the genetics, the tumor biology, and the host response to the tumor.
Dr. Lee: We have some questions from some listeners online. Laurie, in the West Valley asks this question. "The women in my family have breast cancer. My mother had it. Two of my aunts had it, and now my sister has it. What does that mean for me, and what does this research mean for people like the women in my family?"
Dr. Welm: We know that cancer is a genetic disease, meaning it can be hereditary. As you probably know, we made the original discovery of the BRCA mutations.
Dr. Lee: The breast cancer genes.
Dr. Welm: The breast cancer genes that are carried through certain families and contribute to a small proportion of breast cancer, but those patients who carry those genes have very, very high risk of breast cancer. That type of inheritance is what seems to be manifested in this family. Partly as a result of these kinds of discoveries in Utah, we have a fantastic high-risk breast cancer clinic that's directed by Dr. Saundra Buys at the University of Utah and Huntsman Cancer Institute. They can test people for these genes. They can provide genetic counseling as to how they might want to modify either their lifestyle or even take surgical precautions for breast and ovarian cancer in the case of BRCA mutation. They actually follow these patients. So rather than that just being the end of, you know, "Okay, here's mutation, and this is what it means for you," we actually want to be able to follow them with high screening.
Dr. Lee: Here's another question from Sandra in Murray. Sandra asks about men. "Can men get breast cancer?"
Dr. Welm: Men do get breast cancer. It's relatively rare. It's only about one percent of breast cancer that happens in men, but it is a problem, and it's not very well recognized.
Dr. Lee: Does it run in families the same way as women? We don't know?
Dr. Welm: We don't know. Yeah.
Dr. Lee: Since it's so rare, we just haven't done enough research in that. Well, Dr. Welm, thank you so much for being my guest today.
Dr. Welm: My pleasure.
Announcer: We're your daily dose of science, conversation, medicine. This is The Scope, the University of Utah Health Sciences Radio.