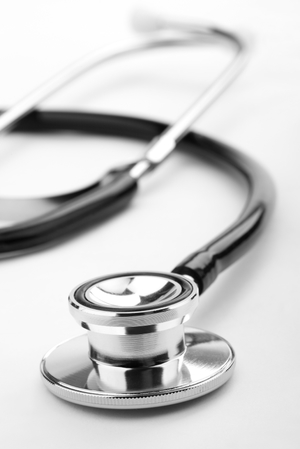 Stethoscopes: Are They Still Useful?
Feb 28, 2014
In today's world of advanced medical technology, do doctors still need stethoscopes or are they just for show? Dr. Bates from Madison Memorial Hospital in Rexburg, ID, talks about this iconic diagnostic tool still found around many physician's necks. Learn about the stethoscope, what your doctor is listening for, what those sounds mean, and why it's still a useful tool.
Transcript
Recording: Medical news and research from University of Utah physicians and specialist you can use for a happier and healthier life. You're listening to The Scope.
Interviewer: Dr. Bates, I noticed that a lot of physicians always have a stethoscope around their necks and I started thinking, is that really the most crucial piece of equipment you can carry with you? How important is a stethoscope to just a general physician, a hospitalist or an internal physician?
Dr. Bates: Very good, as an osteopathic physician I still will base it on my roots that the physical exam, the bed side evaluation of a patient is the most important part of the medical care. The stethoscope is just a part of that physical exam, plus it looks good around our necks.
Interviewer: It tells me you're a doctor.
Dr. Bates: That's right. It helps to identify who we are. I think it's a classic picture. A lot of physicians don't wear them anymore, and that's okay.
Interviewer: What are some of the things you can learn using a stethoscope about a patient?
Dr. Bates: We can learn anything from artery sounds in the neck to heart sounds, obviously. There's multiple and very complicated heart sounds.
Interviewer: Translate that into some illnesses. You listen to the neck and there's something weird sounding, what could that mean?
Dr. Bates: If there's some blockages or what we term stenosis in the arteries of the neck we may hear little squishes, what we call brewies. The heart sounds, we can hear certain types of what we call murmurs which are valvular defects, may signify valvular defects, or just normal physiology of blood flow through the heart.
Interviewer: What are some of the other sounds of the heart you're listening for?
Dr. Bates: What we call rubs, which may be the lining around the heart that's inflamed and we can hear that rub a little bit as the heart rocks back and forth.
Interviewer: Really? What are some other things you listen for? Sometimes they put it on my lungs. What do you hear in there and what does that mean?
Dr. Bates: Lung sounds give us a lot of information there. We get sounds whether it's what we call wet crackles, which could be fluid building up on the lungs. Dry crackles may be fibrosis or scarring of the lungs or pneumonia. Definitely we hear areas that may just change in sound. We can vary that by how we examine the patients as well, physically.
Interviewer: Sometimes you put it on my chest. What are you doing when you're putting it on my back?
Dr. Bates: Mainly listening for those lung sounds on the back.
Interviewer: Front and back are lung sounds, heart sounds, any stomach sounds you ever listen for?
Dr. Bates: Yes, we listen to the belly as well.
Interviewer: What are you looking for there?
Dr. Bates: We can hear the gurgling of your bowels, and if they're active that's a good thing. If they're not sometimes they are high pitched and tinkling and may signify an obstruction of something else going on.
Interviewer: So it's an important piece of equipment, really.
Dr. Bates: Yeah, it gives us a good evaluation and a cheap evaluation as well. Well, I shouldn't say cheap, less expensive.
Interviewer: What does a stethoscope cost?
Dr. Bates: There are all kinds of stethoscopes. There are some that are less advanced. You may get one for $20 to $40. Some of the ones we use like this one are probably around $200 or $250.
Interviewer: What's the difference between a $40 stethoscope and a $200?
Dr. Bates: There are different little bells on these. Sometimes they help to augment the sound a little bit better for certain types of heart murmurs or other sounds that we may need to hear a little bit more specifically. They can help us out, and frankly, the sounds are a little bit more high quality.
Interviewer: Got you, like a decent pair of headphone.
Dr. Bates: Right, you get what you pay for.
Recording: We're you're daily dose of science, conversation and medicine. This is The Scope, University of Utah Health Sciences Radio.