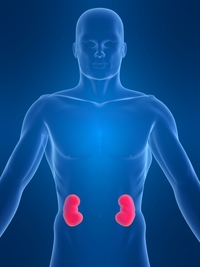 Kidneys 101
Jan 3, 2014
You have two kidneys and you might know where they're located, but do you really know why they're there and what they actually do? And the more important question, what happens when they fail to do their job? Dr. Jeffery Campsen gives you the 101 on kidneys: what is it, what can go wrong, and what you can do about it.
Transcript
Interviewer: The kidney 101, what is it? What can go wrong, and what can you do about it? We're going to find out next on "The Scope"
Announcer: Medical news and research from University Utah physicians and specialists you can use for a happier and healthier life. You are listening to "The Scope".
Interviewer: Time for kidney 101, kind of the basics on the kidney, talking with Dr. Jeffery Campsen from the University of Utah. Let's start with, what exactly is the kidney and what does it do?
Dr. Jeffery Campsen: You've got two of them and they sit basically in the lower part of your back. And they are the organs in the body that filter the blood. And the filtration that they do then produces the pee, the urine that you make. So they're the body's filter.
Interviewer: All right. So let's talk about what's in the blood that's getting filtered out by the kidneys. I find that interesting.
Dr. Jeffery Campsen: So there are two things. One is as you continually go through life you're breaking down parts of your body and that's getting into your blood and it needs to be filtered. The second thing is as you eat the nutrients are being digested, getting into the blood, being delivered to the different organs that need them, and then it's the byproducts of those organs. Just as with anything in life you make waste and you need to filter that out so you can basically stay healthy. And then the kidneys filter out anything that they can and then produce urine, and that's how you get rid of it.
Interviewer: Are there different levels of kidney failure?
Dr. Jeffery Campsen: There are. So the neat thing about the kidney is you're actually built with too much kidney. Right.
Interviewer: That's good.
Dr. Jeffery Campsen: It is. So you probably have four times as much kidney as you need, so you can take away one of your kidneys and still have twice as much, but doctors will monitor that. So if you have 100% at one point, they monitor it until you get down to about 25%. At that point, they're going to say, "Well, you're starting to have kidney failure. You may need dialysis or you may even need a kidney transplant at that point."
Interviewer: And dialysis is simply the external filtering of that blood.
Dr. Jeffery Campsen: That's exactly right. So medically we've been able to build a machine that removes blood from your body, filters it in the machine, and it puts the blood back. Again, it's not perfect. It's not as perfect as a human organ, but it does keep patients alive and allowed to stay alive for a long time.
Interviewer: How often do I have to go in for dialysis?
Dr. Jeffery Campsen: Many patients it's three times a week for about four hours a time. So it's an intense amount of time. I don't think people feel very good on dialysis, but they feel better than if they don't have dialysis. If you don't have dialysis, you'll die from your kidney disease.
Interviewer: And what are some of the reasons that a kidney might fail? Let's get back to both lifestyle and naturally occurring.
Dr. Jeffery Campsen: I think some people are born with innate diseases that can ultimately cause the kidney to fail. Some people are only born with one kidney. Some people are born with small kidneys. Some people are born with a defect that ultimately causes their kidneys to fail.
Then on the flip side you could have perfect kidneys, but your lifestyle treats the kidneys poorly. Meaning that for whatever reason you're overweight, you have high blood pressure, high blood pressure being the main thing that hurts the kidneys. So if you control your blood pressure, you're going to protect your kidneys. Diabetes is another one where the diabetes, the disregulation of your sugar or your glucose will then cause your kidneys to be damaged also.
Interviewer: How does high blood pressure hurt the kidney? Is it just kind of like you're putting too much, too fast for the kidney through the filtration system?
Dr. Jeffery Campsen: So the reason that high blood pressure hurts the kidney and the most basic understanding is the kidney is a huge bundle of blood vessels, and they function at a perfect blood pressure. So just like with pipes in your house, if you put too much pressure on it, it's going to damage the kidney because it's basically a bunch of pipes with too much pressure and it can't handle that pressure.
Interviewer: How exactly does diabetes damage the kidney?
Dr. Jeffery Campsen: So diabetes basically is a disregulation of your sugar control. And for lack of a better description, anything dipped in sugar is going to do poorly. So if you can imagine that the kidney is basically dripping in sugar, it clogs the blood vessels. And again, the kidney is full of blood vessels and if it's clogged with all that sugar, it's going to fail.
Interviewer: It sounds like the lifestyle impacts are pretty significant if you have a kidney failure. It's not a fun thing going into dialysis three times a week.
Dr. Jeffery Campsen: It's not. So to start large basically, if you have kidney failure, it can cause you to die. And then if you're lucky enough to then be able to find a physician that will give you dialysis, dialysis can keep you alive, but kidney failure with dialysis actually shortens your life compared to someone who is not on dialysis. So again, it's not a forever fix. It's a life extension, but it's not a life saver.
Interviewer: And the forever fix is really getting a new kidney.
Dr. Jeffery Campsen: Right. So if you get a new kidney, somehow you need to repair the kidney damage or basically get more kidney. And one of those ways is basically a kidney transplant.
Interviewer: All right, final thoughts on the kidney.
Dr. Jeffery Campsen: I think the best thing to do is to protect your kidneys upfront. So if you have high blood pressure, get it checked and get it taken care of. If you have diabetes, get it checked, get it taken care of. If you're obese, lose weight, get back into the range. Be a healthy person. The healthier you are the better your organs are going to do. That being said, if for some reason you still have kidney failure, see your nephrologist, your kidney doctor, and then look into kidney transplantation.
Announcer: We're your daily dose of science, conversation, medicine. This is "The Scope", University of Utah Health Sciences Radio.