Get Help With Crisis Response, Suicide Prevention, & Emotional Support
Huntsman Mental Health Institute is here to keep all our family members, friends, and neighbors safe. We provide specialty programs to prevent mental health crises and support people through them if they happen. These programs support individuals struggling with mental health challenges and connect individuals to additional resources that can help them. Our team of professionals train in these areas:
mental health crisis management,
suicide prevention, and
emotional wellness.
We are here when you need us the most. Whether you need someone to listen or to show up when you really need them, we are here for you.
24/7 free and confidential crisis help and support
In Association With The National Suicide Prevention Lifeline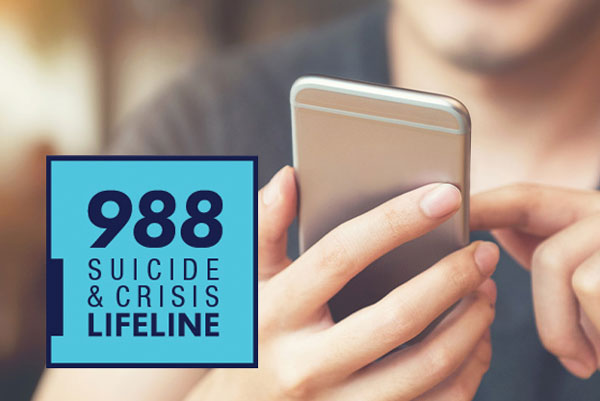 988 Suicide & Crisis Lifeline National Launch
988 has been designated as the new three-digit dialing code that will route callers to the National Suicide Prevention Lifeline. Callers from Utah will be connected to the Utah Crisis Line, staffed by certified crisis workers at HMHI. This dialing code is confidential, no-cost, and available 24/7/365 to everyone across the United States. 
988 is the primary number that directly routes callers in need to the National Suicide Prevention Lifeline network and Utah's integrated crisis response system staffed by certified crisis workers at Huntsman Mental Health Institute. 
Callers to 988 have the option to select the Veterans Crisis Line or the Spanish Language Crisis Line. If the caller with a Utah area code does not select either of those options, they are routed to Utah Crisis Line. If after three minutes the call is unanswered, the caller is routed to the National Suicide Prevention Lifeline (NSPL) backup affiliate network.
Callers connected to the Utah Crisis Line receive specialized, individualized support from certified crisis workers trained in suicide prevention, de-escalation, and stabilization and get connected to mental health resources. The Utah Crisis Line continues to work closely with the Mobile Crisis Outreach Teams (MCOT) across the state to support in-person crisis intervention.
The existing Utah Crisis Line phone numbers (1-800-273-8255 and 801-587-3000 local) remain available to people in emotional distress or suicidal crisis. 
The Utah Crisis Line, in association with the National Suicide Prevention Lifeline, is here to provide compassionate support during difficult times and refer anyone in need of mental health services. Callers of any age and with any mental health issue may reach out for help. Multi-lingual services are available.
24/7 Free and Confidential Services
Available 24 hours a day, 7 days a week, 365 days a year at no cost to you, our certified crisis workers provide:
compassionate and non-judgmental emotional support.
suicide prevention, information, and referrals.
follow-up services.
psycho-education about mental health issues.
education on how to support loved ones with mental health issues.
therapeutic assistance to individuals in emotional distress or psychiatric crisis.
coordination and dispatch response to individuals in the community as needed via the Mobile Crisis Outreach Team (MCOT) and/or first responders in coordination with other local mental health authorities.
The Utah Crisis Line collaborates with all 13 local mental health authorities across the state to ensure the best services are provided based on your location and needs. The goal of our services is to empower families and individuals with the tools and resources to receive the care that they need.
For help, call the Utah Crisis Line at:
988 | 801-587-3000 (local)
What Is a Crisis and How Do I Know if I'm in Crisis?
A "crisis" can mean something different to every person. These are all examples of things people contact us about when they are in a crisis:
Stress
Relationship struggles
Loss of a loved one
Thoughts of suicide
Other words for crisis could include struggle, feeling stuck, feeling anxious, or going through a hard time. 
A crisis is something that can overwhelm you so that you can't solve a problem. Our staff are here to help you figure out how to get through your problem. Whether it is you, a friend, or family member who is struggling, you are not alone. 
I Don't Feel Like I'm in a Crisis. Can I Still Use the Services?
Yes! Crisis can mean a lot of different things. You do not have to be in a crisis to call us. A lot of times people call to talk about something that's been on their mind and they want another perspective.
We are also here to help if you are worried about a loved one or a friend who is struggling.
Mobile Crisis Outreach Teams (MCOT)
To find out how MCOT can support you, call 988.
The Utah Crisis Line sends out mobile crisis outreach teams (MCOT) in many areas throughout our state. MCOTs provide:
fast,
free,
face-to-face or virtual video response.
MCOT is for Utah residents who are having a mental health challenge.
Youth and adult services teams are available 24/7/365 and offer consultation and support to:
individuals,
families,
schools,
treatment providers, and
first responders.
We also provide follow-up services, like ongoing support. This includes referrals to health care providers and to mental health services in the community.
HMHI MCOT primarily provides care for people within Salt Lake County. Through the Utah Crisis Line dispatch, we work with other local mental health authorities across Utah. These other authorities also offer MCOT teams for a prompt response.
MCOT teams have both licensed clinicians who are highly trained and peer support specialists (also certified). Peer specialists:
have personal experience with past mental health or substance use challenges,
are in recovery after receiving treatment, and
can share their lived experience to provide empathy and hope.
When Should You Ask for an MCOT?
MCOT is there for you when you are feeling lost, alone, having a difficult time coping with life, or have concerns related to a loved one living with you. Our team will meet you where you're at—whether that's at home, at work, or anywhere in the community.
The team arrives in unmarked vehicles to support your privacy. We do our best to keep those that we serve out of the hospitals and in their communities.
NOTE: Due to COVID-19, we now offer virtual visit options.
Often, individuals may need a listening ear as they heal and recover from their own personal struggles. Utah residents who need connection from others who have walked similar paths may call the Utah Warm Line for that support. The Warm Line is staffed 8am-11pm, 7 days a week, 365 days a year at no cost.
Our certified peer support specialists have received specialized training and have navigated mental health issues and/or substance abuse issues of their own. They are trained in providing hope and empowerment through the recovery model. This model instills a person-centered approach to recovery and healing. Certified peer specialists engage with the community through empathetic listening. Our specialists encourage callers to resolve problems by fostering dignity and self-respect and finding their inner strength to live healthy, independent lives. The Warm Line works closely with the Utah Crisis Line and the Mobile Crisis Outreach Team (MCOT) to ensure the best support is provided to you and your loved ones.
SafeUT Crisis Chat & Tip Line
The SafeUT Crisis Chat and Tip Line is a Utah service that provides real-time, emotional support and crisis prevention 24/7/365 to students, parents, and educators. You can chat with a licensed counselor for support or submit a confidential tip right from your smartphone, or call 833-372-3388 to talk about whatever is on your mind
SafeUTNG – SafeUT National Guard
SafeUTNG is an app for National Guard Members (active duty), their partners/family members, and civilian personnel. The app gives you 24/7 access to licensed mental health counselors by:
phone (833-3SAFENG),
live chat, or
submitting a confidential tip.
SafeUTNG is confidential and available to our National Guard community at no cost. It is designed in collaboration with the Utah National Guard and HMHI. Download the app through the App store or Google Play store.
SafeUTNG In the News
How We Are Helping (By the Numbers)
University of Utah Health, including Huntsman Mental Health Institute, is fully accredited by DNV, which is a world leading organization whose sole purpose is to safeguard life, property, and the environment.
HMHI Crisis and Diversion Services has furthered our commitment to excellence in patient care with an additional CARF accreditation focused on crisis and behavioral health. Achieving a CARF accreditation requires a service provider to commit to continuous quality improvement in all areas of service and must demonstrate that it conforms to a series of rigorous and internationally recognized CARF standards.