University of Utah Health has the only multidisciplinary clinic in the state for adults living with spina bifida. It is located at the Clinical Neurosciences Center as part of our neurosurgery clinic. Our team of experts works with you to manage symptoms associated with spina bifida and elevate your quality of life through customized treatment options. Our care team has a unique eye for the range of issues facing our patients.
We are committed to caring for you throughout your life and at any stage of need. Patients can easily transition their care from pediatric or out-of-state providers. Our physicians offer coordination and continuity of care for every stage of treatment. As the leading resource for adult spina bifida care in Utah and the Mountain West region, our clinic works with most insurances to provide in-network coverage benefits.
Types of Spina Bifida We Treat
Spina bifida is a congenital (occurs at birth) condition that occurs when the spine and spinal cord don't form normally. This may leave portions of the spinal cord exposed, which results in damage to the spinal cord and nerves both in the womb and at an early age.

Our physicians are expertly trained to provide care for all levels of spina bifida, which include:
Spina bifida occulta (mildest and most common),

Meningocele, and

Myelomeningocele (most severe).
Our care team will help you design the best treatment plan to meet your needs.
Spina Bifida Symptoms in Adults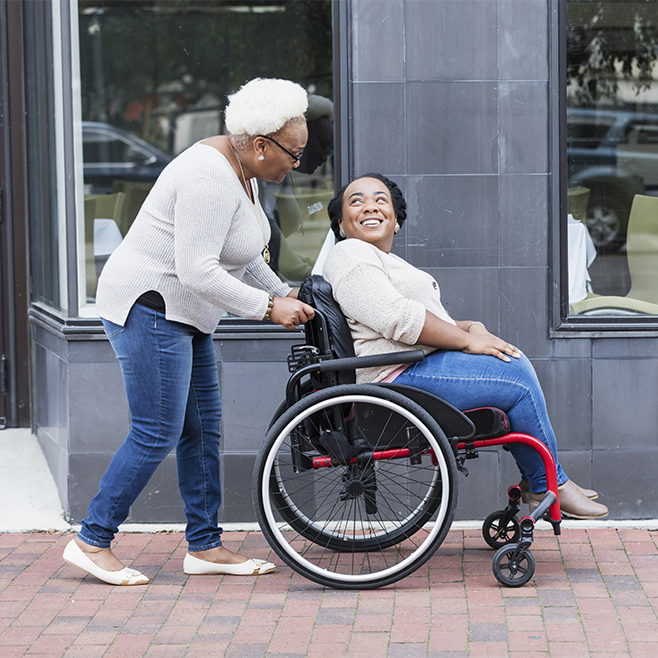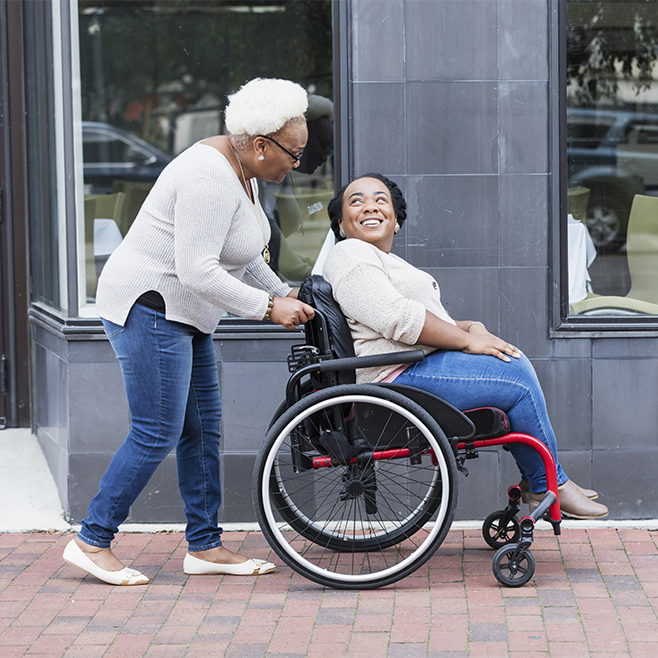 Spina bifida ranges in severity from mild to debilitating symptoms, depending on the type, size, and location of the problem.
These symptoms may include:
numbness, weakness, or paralysis from a tethered and/or exposed spinal cord;

loss of balance or coordination;

hydrocephalus (incorrect spinal fluid drainage);

spine issues such as scoliosis or bony compression; or
urinary issues, including incontinence, urinary retention or bladder infections. 
Early treatment is critical to help improve your quality of life. However, it is never too late to seek care.
Spina Bifida Treatment & Services
Spina bifida care requires routine monitoring. We recommend a yearly visit or more frequent appointments, as needed. You and your providers will work together to map out the care plan best for you.
Our clinic provides access to three specialty areas during each visit, including:
Neurosurgery Services
Tethered Cord Evaluation
Some adult patients experience no symptoms or mild symptoms associated with a known tethered cord (scar tissue buildup). The first line of treatment is careful monitoring to prevent future complications. If surgery is the best option for treatment, our surgeons will tailor the operation specific to the cause and area of your tether. During surgery, the spinal cord is released and pressure on the spine is relieved.
Hydrocephalus Evaluation
Patients with hydrocephalus (incorrect spinal fluid drainage) may need a new or revised ventricular shunt — a small, hollow tube placed in the brain to redirect spinal fluid buildup. The connected internal tubing will safely move and drain fluid elsewhere. If you have previously had this surgery, tubing may wear and crack over time. If this occurs, monitoring and/or replacement surgery may be needed.
Brain Decompression Surgery
Chiari II malformation occurs when brain tissue extends into the spinal canal. This condition often presents with spina bifida. Brain decompression surgery treats Chiari II to relieve pressure on the spinal cord and improve fluid flow.
Imaging Scans
We recommend periodic imaging of your brain and spine as part of a coordinated and ongoing treatment plan. Your care team may perform regular X-rays, MRI scans, CT scans, and other imaging to ensure:
your brain and spinal cord growth and development are appropriate.
your spinal fluid flows properly.
there are no new areas of concern.
Urology Services
Regular Monitoring

— Urinary retention or incontinence issues are common for some spina bifida patients. Your physician will check your symptoms at each visit.

Ureteral Reimplantation

— This is a surgery that redirects and corrects urine flow between the bladder and kidneys.

Self-catheter training and care —

You may receive special education to help you manage your urinary issues. We will teach you how to administer a catheter (a thin, flexible tube inserted into a narrow opening of the body to remove fluid) and care for your equipment.
Physical Therapy Services
Our care providers want to make sure you're able to get around in the best way possible. Physical therapy exercises will help improve your overall mobility, strength, and stability. Your care provider will assess your conditioning, demonstrate exercises, and make sure you have any materials you need to perform exercises at home.
You may also be evaluated for medical equipment specific to your needs, such as:
wheelchairs,

leg braces, or

other types of assistive equipment to help optimize your movements and mobility.
Meet Our Providers & Care Team
What to Expect at Your First Appointment
Our staff is dedicated to helping your visit run smoothly. We will review your provider referral and medical records before your appointment to ensure no additional imaging or tests are required.
Before Your Visit
Many adult patients transition to our clinic from a pediatric care team, while others transfer care from a separate practice. Our patient care coordinator will:
help you schedule your visit.

coordinate the transfer of medical records and imaging scans.

provide clear directions to our building and clinic.

recommend lodging and other amenities.
During Your Visit
You will need to arrive 15 minutes ahead of your appointment to complete necessary paperwork. This helps us dedicate as much time as possible to your visit. Please bring your insurance card, and make sure our clinic has access to any records or medical imaging done outside U of U Health.
Each visit allows time for you to meet with your provider to discuss any relevant medical imaging, and evaluate your symptoms or concerns. Your providers will consult with one another to provide a coordinated, efficient plan of care. This eliminates the need to schedule individual appointments with each specialist. Please plan for your visit to take one to two hours.
Your specialist may conduct a physical examination to evaluate your condition in detail and provide informed care. Examinations typically include:
a full neurologic assessment for all new patients;
checking hands and feet for circulation, pulse, strength, and reflexes;
testing for sensation, strength, stability, and coordination;
pain and symptom assessment;
abdominal or pelvic exam to evaluate any urinary conditions; and
X-ray imaging for previously implanted devices or spinal deterioration.
Post-Operative and Follow Up Care
Occasionally, patients may need to schedule visits for post-operative care.
During these appointments, your care team may:
provide a physical exam,

remove stitches or staples, and/or

conduct in-office imaging.
It's possible to obtain a normal-to-average life expectancy with frequent, thorough, and appropriate care. Your treatment team will help carefully prescribe your care to manage symptoms and avoid worsening conditions.
How to Make an Appointment
Your current care team may refer you to our office, but you do not need a physician's referral to schedule a visit (self-refer). For more information on our clinic or to connect with one of our specialists, please call 801-585-6065 or request an appointment online.
Adult Spina Bifida Team
Douglas L. Brockmeyer, MD, FAAP
---
Mary K. O'Rourke, PA
---
Michael J. Workman, PT
---