Our team of highly trained stroke experts designed the Stroke Rehabilitation program to help restore order in your life using state-of-the-art practices and technology at our Craig H. Neilsen Rehabilitation Hospital. We are an accredited program that specializes in stroke rehabilitation, which ensures that the care you receive at University of Utah Health is among the best in the nation.
When it comes to stroke recovery, the vast majority of stroke patients are faced with the following challenges:
Neurologic restoration—Whether you've lost the ability to speak or the function of your arm, hand, or leg, our rehabilitation team will give you the tools you need to restore your natural movements as much as possible. Our goal is to get you as close as possible to your normal level of function that existed prior to the stroke
Functional adaptation—We understand that any stroke-related impairments may make your life difficult. However, we will show you the methods you need to acclimate and adjust to a new normal. 
Our program will teach you about the adaptive spiral — a way to make every day a little better than the day before. In time, you will achieve balance and fulfillment in multiple aspects of your day-to-day life.
Finding the Right Type of Rehabilitation
We offer different kinds of rehabilitative environments for every type of stroke patient. We believe that rehabilitation should fit the patient's current status of function.
Inpatient Rehabilitation at Neilsen Rehab Hospital
For moderate to severe stroke patients, inpatient rehabilitation may be recommended. However, patients deemed eligible for an inpatient rehabilitation program must be able to learn and have sufficient endurance to participate in physical therapy sessions. 
Outpatient or Home Health Therapy
Patients with mild stroke impairments and a high functional status can go home and receive outpatient therapy or home health therapy and assistance. Ideal patients for outpatient therapy are able to follow directions and actively work and engage with their therapists. They must also be medically stable enough to participate.
What to Expect during Your Hospital Stay
When starting a rehabilitation program, it is important that you, as a patient, and your family, begin with the proper mindset. During a patient's stay at our rehabilitation hospital, he or she will receive guidance on how to maximize their independence.
We assist patients with everyday tasks such as dressing, feeding, and grooming/hygiene. Patients will receive a minimum of three hours of therapy five days per week. As time continues, we will integrate more activity into the patient's therapy session, which helps to establish a level of independence wherever possible.
Average Hospital Stay for Stroke Patients
An average stay typically spans 15-16 days — enough time to determine each patient's level of safety and independence. However, neuro-rehabilitation does not happen quickly. It's a marathon, not a sprint. As the journey continues past inpatient rehabilitation, we want you to feel safe, secure, and validated in your essential worth, identity, and integrity.
How to Treat a Stroke with Advanced Technology
The needs of post-stroke management differ just as much as the types of stroke do. A one-size-fits-all approach to recovery may not always be ideal. Within our program, we try to tailor the individual needs of the patient using different types of therapeutic interventions throughout his or her rehabilitation journey.
Weight-Supported System
For stroke patients with impaired movement, we use a weight-supported system attached to an overhead track to support a portion of the patient's body weight. This creates a safe environment where walking, traveling up and down stairs, among other activities, are possible. Our system is equipped with ZeroG technology to protect the patient from falling while providing them with balance and gait (a person's manner of walking) assistance.
Robotics
Our rehabilitation specialists use the latest robotic tools to help stroke patients recover the function of their arm or hand.
Functional Electronic Stimulation
These types of treatments apply small electrical charges to the muscle-area that have either atrophied (wasted away) or become paralyzed due to the stroke. These charges prompt the muscle to respond with its previously-learned movement or response.
Flexible Endoscopic Evaluation of Swallowing (FEES)
Aspiration pneumonia (a lung infection that develops when you inhale food, stomach acid, or saliva into your lungs) is a common, and usually avoidable, complication after stroke. Our stroke rehab team will utilize advanced technologies such as FEES, to visually assess a patient's swallowing function. FEES is a simple to use, noninvasive tool that evaluates a patient's ease of swallowing certain foods or liquids. We also use other similar devices to help the patient practice swallowing until they can safely do so.
Finishing the Race
Two stroke survivors, two wheels, and a determination to reclaim life
Learn More About the Patient Experience For Stroke Recovery
After a Stroke: What to Expect
At first, we try to foster and support relearning how to walk with physical assistance from up to three people. Sometimes, we use a harness system attached to a track located on the ceiling or a treadmill. Once the patient is able to walk independently, with or without an assistive device, we start measuring the individual's walking speed. We ask the patient to take a short walk (about 30 feet) and track his or her improvement each visit. This helps the patient see real evidence of their improvement, as walking speed is highly correlated with a higher quality of life.
Many stroke patients hope to regain their driving skills as they reintegrate themselves back into their everyday life. Our rehabilitation specialists have the common goal of getting you out on the road, while ensuring safety. A multidisciplinary team consisting of a physician and specially trained occupational therapists will review your readiness for the road by conducting a thorough evaluation.
Virtual driver simulation programs conducted in the safety of a clinical setting are an important tool in our driving evaluation. In these simulation programs, the patient should be able to demonstrate a number of skills, including:
good safety awareness,
scanning techniques,
safe operation of all devices in the car,
as well as a solid knowledge of the laws of the road.
Our simulations are computer-generated to create a realistic environment for the patient to practice driving in. We use real equipment including steering, brakes, acceleration, and signaling.
After the driving assessment, the physician will complete a Functional Abilities form, based on the recommendations of the specialized therapy evaluation. This will be submitted to the respective state's Division of Motor Vehicles office.
Return to Work After Stroke
Some stroke patients will not be able to to return to the career they had before their stroke. Barriers for re-employment have been linked to severity of stroke—the more impaired a person is, the less likely they will successfully return to work. Losing your ability to either understand or express speech as a result of cognitive impairment/brain damage also creates a significant barrier.
With the ability to make changes where necessary and be flexible, adaptability is possible. If you want to return to work, which is generally recommended if you are able, you should seek guidance from a vocational counselor provided by the state or community. If you are motivated to do so, consider enrollment in a vocational rehabilitation program that provides job re- training and education, as well as counseling.
We also recommend a gradual return to work in a supervised setting with appropriate accommodations based on impairments, safety concerns, and/or the potential for overwhelming psychological stress. The Americans with Disabilities Act provides protection of rights of disabled citizens, and employers are responsible for providing reasonable accommodations to disabled workers.
Spasticity Management Program
Of all the late complications of stroke, spasticity can have lasting effects on your movement and quality of life. Spasticity and hypertonia are defined, in simple terms, as an increase in muscle tone. Spasticity is felt as excessive tightness on the already-impaired side of the body. Hypertonia may also be defined as increased muscle tone at rest.
Our spasticity management program provides stroke patients with an array of treatment options that focus on reduciny spasticity and hypertonia-related symptoms. Our specialists may employ the use of:
oral medications,
botulinum neurotoxin injections (Botox is currently the most com­mon option) or phenol (alcohol) injections,
baclofen pump manage­ment,
physical and occupational therapy,
stretching, and
surgical procedures.
Return to Recreational Activities
To accommodate for the challenges of recreation after stroke, we have taken advantage of the resources right in our backyard by creating TRAILS (Technology Recreation Access Independence Lifestyle Sports), an adaptive recreational program. We realize that time in nature, such as hiking or camping, provides stroke survivors with healing and therapeutic benefits after dealing with stress, grief, or trauma in the aftermath of stroke. TRAILS aims to enhance the emotional and physical wellbeing of participants in a safe environment with a range of activities directed at a wide spectrum of functional levels.
There is hope after stroke, but usually things will not go back to the way they were. You may have to adapt to a new situation; you may even have to reinvent yourself. But the power is within you to do that reinvention and regain a high quality of life.
Meet with One of Our Stroke Specialists
We accept self-referrals and referrals from family members to be admitted to our program. A doctor referral is not necessary. Please call our referral line at 801-646-8000 to be seen by one of our stroke specialists. Our administrative staff will work with your current provider to obtain necessary medical records and verify your insurance benefits for coverage.
Our stroke rehabilitation specialists are committed to providing the best care and support for patients who want to reach their functional goals. We track the progress of our patients through the Functional Independence Measure (FIM) tool.
We look at the following patient factors:
level of satisfaction,
level of independence,
discharge to a homelike setting, and
quality of life.
These results fuel our drive and provide standards for our patients and staff. By looking at our program results, we are able to continue raising the bar and setting the standard for stroke rehabilitation and management.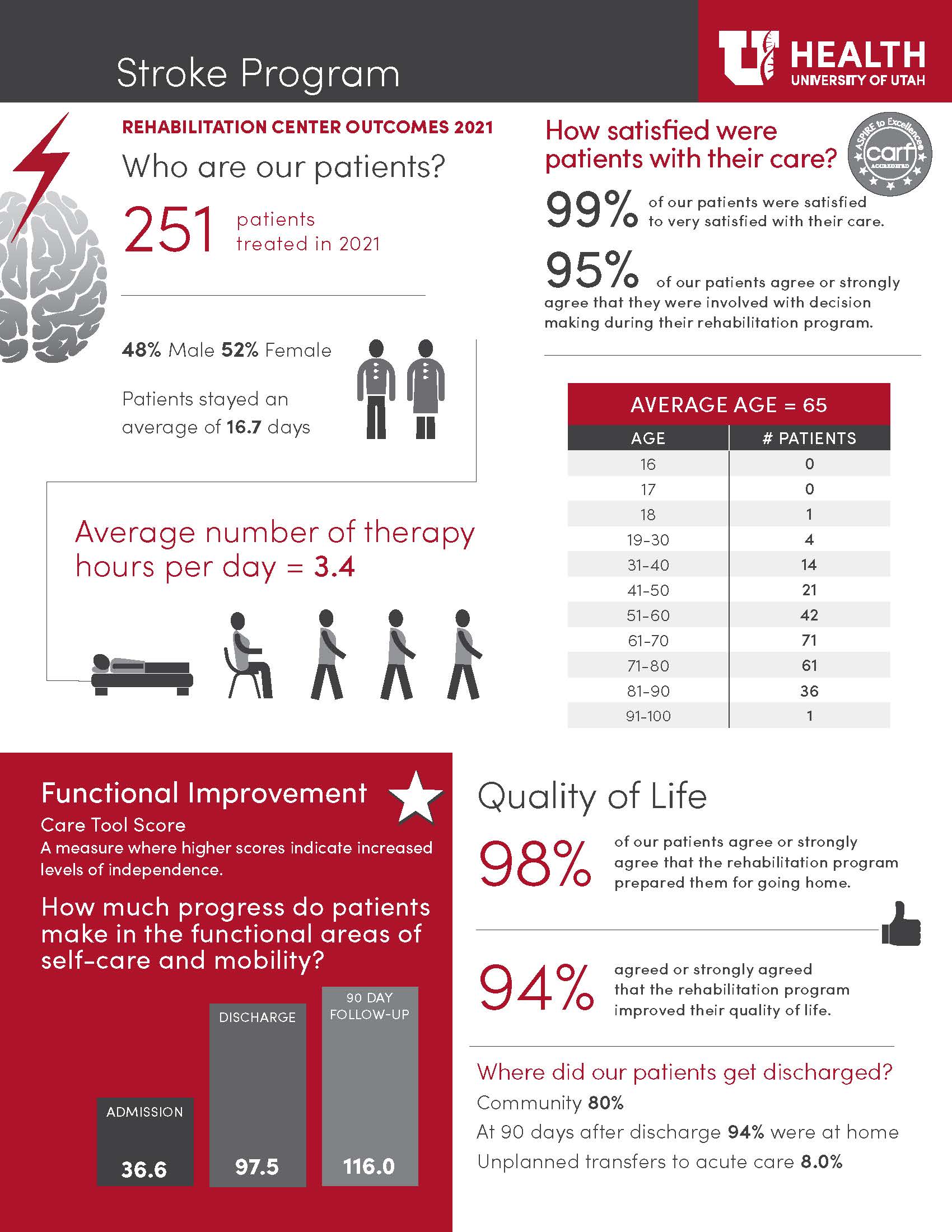 How much do you know about stroke? Learn to recognize stroke signs and symptoms.
Hear From Our Specialists