Our Spinal Cord Injury Program
When you choose the University of Utah Health for you or your family member's spinal cord injury rehabilitation, you are choosing a program that marshals the resources of an entire university and academic health center to aid in your recovery. 
The Craig H. Neilsen Rehabilitation Hospital is directly connected to our University Hospital, which gives you immediate access to all of the medical professionals involved in optimizing your care. Complex patients — even those on a ventilator — will have a unique care team that only a prominent academic medical center can provide. We offer every possible therapy and support service including the most advanced rehabilitation technology to make you as independent as possible and achieve your rehabilitation goals.
University of Utah Health is accredited by the Commission on Accreditation of Rehabilitation Facilities with a specialty certification in spinal cord injury, which reflects our commitment to being among the nation's best at treating spinal cord injuries.
Average Length of Inpatient Stay
In 2018, we treated 106 spinal cord injury patients and 95 percent said the rehabilitation program prepared them to return home. On average, our patients were in therapy for nearly 3.5 hours daily and stayed at the hospital for 27 days. However, your length of stay may be up to 60 days depending on the complexity and type of your spinal cord injury or illness.
Types of Spinal Cord Injuries
Depending on the location of your injury, you may have lost some or all feeling and muscle control in certain areas of your body. The two types of spinal cord injuries include:
Incomplete spinal cord injury—If you have an incomplete injury, you have the ability to move some muscles or experience some sensation beneath the injury site. Patients with this kind of spinal cord injury may have a greater potential to regain more muscle control and sensation.
Complete spinal cord injury—If you have a complete injury, you cannot move the muscles or experience sensation beneath the injury site. Your spinal cord does not need to be cut for this to occur. A spinal cord bruise can have a similar effect.
However, a new body of research suggests that the standard definitions of complete and incomplete may not always tell the full story. Ongoing physical exams by your clinical team could help clarify your type of injury and potential for return of function.
We even treat other paralyzing conditions such as:
Multiple sclerosis—This is when your immune system attacks the protective covering of your nerves, which can cause communication problems between your brain and your body.
Guillain-Barré syndrome—This is a rare inflammatory disease that also occurs when your immune system also attacks the protective covering of your nerves. This may prevent your nerves from sending signals to the muscles.
Amyotrophic lateral sclerosis (ALS) or Lou Gehrig's disease—This disease affects your spinal cord which can cause progressive weakness or muscle atrophy (wasting away of body tissue).
Complex trauma with nerve injury, and
Brain stem injury—This type of injury may cause locked-in syndrome, a condition where a person is fully conscious. However, they can't move or communicate except through eye movements or blinking.
Spinal Cord Injury Treatment Team
We will work with you to create a personalized rehabilitation plan to help you attain your physical, mental, and emotional goals. In partnership with you, your family, or other care providers, we will set you on the path toward returning to as many of your personal, professional, and recreational activities as possible.
Your treatment may include working with a variety of professionals such as:
physiatrists (rehabilitation physicians),
physical therapists,
occupational therapists,
speech therapists,
neurologists,
pulmonologists,
nurses,
social workers,
case managers,
rehabilitation educators,
recreation specialists,
psychologists, and
urologists.
Find a Spinal Cord Injury Specialist
Spinal Cord Injury Rehabilitation Services
We offer the following services and treatments for you or your family member recovering from a spinal cord injury:
Muscle maintenance and strengthening—Spinal cord injury recovery and rehabilitation means maintaining and strengthening your muscles. Our physical therapists will guide you through an individualized treatment plan to maximize your improvement in strength, coordination, and endurance.
Redeveloping motor skills—Physical, occupational, and speech therapists will help you optimize your ability to accomplish daily living activities with your current level of function while helping you progress towards greater skill and independence.
Indoor and outdoor rehabilitation—Our rehabilitation facility was designed with both indoor and outdoor spaces including an indoor/outdoor gym experience and rehabilitation courtyard, which will offer important therapeutic challenges during your rehabilitation stay.            
Seating and mobility clinic—When a manual or power wheelchair is required, our dedicated team of seating and positioning experts is essential for providing the best wheelchair equipment and accessories possible. Our clinic will also act as a partner in finding the right piece of adaptive sports or adventure gear to keep you active and healthy.
Mobility garage—We offer space within our Neilsen Rehabilitation Hospital to bring your vehicle into a climate-controlled environment. At our mobility garage, you can practice entering and exiting your vehicle and explore adaptive equipment that will help you return to driving sooner. This space will also serve as a showcase for the latest accessible vehicles and mobility technology.  
Driving evaluation—An advanced driving simulator for hospital and community patients is available for practicing driving skills before returning to the road. An occupational therapy driving instructor will help assess your vision, reaction time, and cognitive processing speed to accurately determine your readiness to drive. Once we complete these tasks, the therapist will accompany you in a car on the road and monitor your progress.
Education and training—A rehab education specialist provides a comprehensive education program for patients, families, and caregivers during your hospital stay. Outpatient education forums occur throughout the year to bring you the latest information about spinal cord injury research and community resources. Busy family members and care providers can participate remotely using computers and video conferencing.
Prosthetics and orthotics fitting and training—We utilize orthotics and prosthetics to help assist you with your mobility and daily activities. New 3D printing technology allows us to quickly create custom solutions for your particular needs.
Occupational therapy—While you are in the hospital, you will meet one-on-one with an occupational therapist several times a week to learn more about how to function in your new body. You will discuss and explore the following topics:
spinal cord anatomy,

spinal cord injury definition,

how to manage bladder and bowel issues,

prevention of skin problems,

sexual function challenges, and

nutrition. 
Speech therapy—For many patients that require ventilator use, our speech language pathologists are essential to return to safe eating and effective speech. 
Our additional rehabilitation services include:
marital counseling,

substance abuse counseling,

medication management services,

nutrition services and counseling, and

vocational counseling.
Finding Resilience After a Spinal Cord Injury
At the heart of the Craig H. Neilsen Rehabilitation Hospital is a dedication to helping patients discover their resilience and adapt to a new way of life after a traumatic spinal cord injury.
Adaptive Technology We Use
Our researchers are always on the lookout for the latest technological solutions during rehabilitation in the hospital and in the community.
We use cutting-edge technology such as:
ZeroG—This is a robotic body-weight support system that helps partially unweight the patient to provide a "reduced gravity" environment for rehabilitation activities. We have the longest track in the world and are the first hospital to utilize this safe and effective system over stairs. ZeroG allows patients to focus on certain muscles and movements with no chance of falling.
Functional electrical stimulation (FES)—We attach electrodes to a patient's limbs to stimulate his or her nerves. This allows someone to maintain muscle mass, even in paralyzed muscles, while getting an effective cardio workout. Patients with paralysis can ride a stationary FES bike or use a stepping machine while supported with a harness.
Exoskeletons—Patients with paralysis can wear battery-powered brace-like devices that help them stand and walk. These devices are available for use in both the hospital and outpatient therapy.
Digital Innovation Lab & Assistive Technology Center—This center allows patients to explore the very latest in technological solutions to improve their lives. Computer science specialists work actively with patients in the same space to test the newest technology breakthroughs to benefit you.
Eye-gaze technology— Any technology that has a computer interface can be controlled with a person's eyes. Our occupational therapy technology experts will develop the right solution to keep even individuals with the most complex injuries in charge of their lives.
We are also dedicated to exploring effective and affordable tools for you to use at home after you leave the hospital. We offer equipment that includes lift systems, travel equipment, wheelchairs, and other technology that can be temporarily borrowed from our demo closet. The goal is to help you succeed at home until you are able to acquire the appropriate tools.
After the Hospital: Spinal Cord Injury Management
Many spinal cord injury patients continue to take advantage of our programs and facilities for years after their initial injury. Our spinal cord rehabilitation specialists will provide you with treatment and services long after you leave our hospital — even if you live outside Salt Lake City.
We offer the following programs and services to help support you throughout your ongoing spinal cord injury recovery and management.  
After you leave the hospital or the region, our doctors can stay in touch with you via videoconferencing—a part of our telemedicine program. We will act as your spinal cord injury specialist, primary care provider, and urgent care provider to help you with medical challenges related to your injury and everyday life.  
You can continue to use the rehabilitation equipment at our wellness gyms, which offer everything from ski training to Zumba. Physical and occupational therapy-designed wellness plans are offered in a group setting. Our ongoing lifestyle and nutrition classes help our patients maintain good health and a high quality of life. These programs are designed to be easily accessible and affordable.
Our adaptive sports program, TRAILS (Technology Recreation Access Independence Lifestyle Sports), has received national attention for helping patients stay active and return to a sport they love or just discovered. Patients of all ability levels are encouraged to participate in the many activities that we hold nearly every day of the week year-round.
Our spinal cord injury team is committed to providing the best care and support for patients who want to reach their functional goals. We track the progress of our patients through the Functional Independence Measure (FIM) tool.
We look at the following patient factors:
level of satisfaction,
level of independence,
discharge to a homelike setting, and
quality of life.
These results fuel our drive and provide standards for our patients and staff. By looking at our program results, we are able to continue raising the bar and setting the standard for spinal cord injury rehabilitation.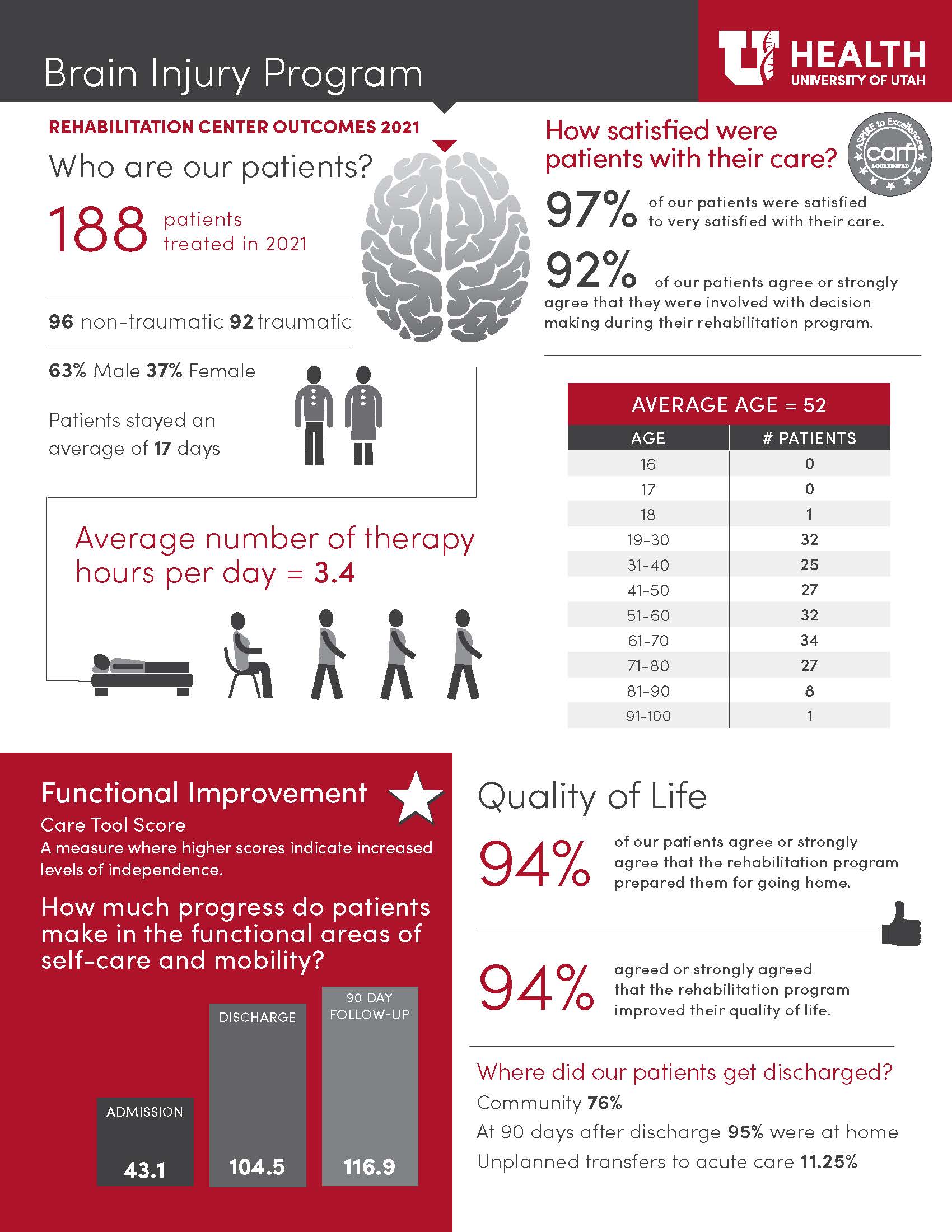 Meet with Our Spinal Cord Injury Specialists
For questions or information on how to be admitted to Neilsen Rehabilitation Hospital or how to access our programs, please call our referral line at 801-646-8000. Our referral specialist will work with your current provider to obtain necessary medical records and verify your insurance benefits for coverage.
Learn About Spinal Cord Injuries From a PM&R Specialist
Self-Care Guide for Spinal Cord Injury Patients
The goal of rehabilitation is to help you design a lifestyle that will allow you to function as independently as possible within the realm of your ability. This manual covers many things you learn while you are in the hospital that you can use at home. Yes, You Can! courtesy of Paralyzed Veterans of America.
Learn What You Can Do at Home
Spinal Cord Injury & Fertility
Some patients with a spinal cord injury may have erectile and/or ejaculatory dysfunction. Our fertility specialists are highly trained in treating these types of disorders to help get your sexual function back.
Learn More about Our Fertility Treatment Options
Hear From Our Patients & Specialists