At University of Utah Health, our nationally recognized providers have decades of experience treating brain injuries of all types and severity. Because the Craig H. Neilsen Rehabilitation Hospital is partnered with an acute care hospital, we are uniquely poised to offer rehabilitation services as early as possible to patients, which can help accelerate you or your loved one's recovery.
We understand that every brain injury is unique. Our goal is to help you regain the independence and skills you need to return to the highest level of functioning possible. Our close partnerships with community organizations will help you successfully reintegrate into the community and return to work. Our rehabilitation team will guide you through a personalized treatment plan during your hospital stay and beyond.
Why Choose Neilsen Rehabilitation Hospital?
We provide among the best and most comprehensive therapies for brain trauma patients in the nation. We are the only program in the state accredited by the Commission on Accreditation of Rehabilitation Facilities for specialized rehabilitation of individuals with brain injury.
After a patient has an acquired brain injury, either traumatic or non-traumatic brain injury, simple daily tasks such as walking, eating, and speaking may become difficult. We will work with patients and their families to overcome limitations with a comprehensive therapy plan. Our state-of-the-art hospital will give brain injury patients an ideal setting for healing and recovery during this difficult time.
What Is Brain Injury Rehabilitation?
The moment a patient with a brain injury arrives at Neilsen Rehabiitation Hospital, our team of doctors, nurses, and therapists collaborate to create a personalized recovery plan. We will empower you and your family with the skills and knowledge needed to effectively address any physical or cognitive challenges.
Our interdisciplinary team supports and helps our patients thrive. Your brain injury treatment team will include:  
Occupational therapists—They help patients improve their daily living skills such as dressing and bathing.
Physical therapists—They work with patients on mobility skills such as walking and getting in and out of bed.
Speech language pathologists—They help with talking, swallowing, and cognitive skills.
Social workers—They help coordinate patient care while in the hospital and after discharge.
Psychologists — They help patients address mood, cognition, and behavior challenges.
Rehab nurses—They assist with daily medical needs including bowel and bladder care, wound management, and implementing the daily medical plan for the patient.
Rehab educators—They help to educate patients and families about brain injury diagnoses and the associated physical and cognitive impairments.
Physicians—They have specialized training in different areas of medicine and care for the patient's varying needs.
Dietitians—They help optimize a patient's nutrition for recovery.
Find a Rehabilitation Specialist
Patient Ben Eder's TBI Recovery at Neilsen Rehabilitation
From day one, we are committed to helping you get back to as many of your daily activities as possible before your brain injury occurred. Our personalized treatment plan for your brain injury rehabilitation will span from your first day in the hospital to your recovery at home.
Many of our treatment options feature the latest advances in rehabilitation technologies which may begin in acute care and throughout outpatient treatment as needed. Some interventions include:
Assistive Technology Center—We offer a collaborative treatment center to provide evaluation, prescription, and training in the use of hardware and software technology to enable you to control an environment with your voice, eye movements, or any other type of physical control.

Augmentative communication devices—If you have trouble speaking, these devices will allow you to do things such as run a computer or surf the internet with your eyes.

Cognitive rehabilitation—The Bioness Integrated Therapy System allows occupational therapists, physical therapists, and speech-language pathologists to measure and improve your reaction time and visuomotor coordination (the brain's movement and visual perception) using screen-based assessments and games. A variety of individualized treatments are also used to improve your memory and executive function skills such as paying attention or organization.

Community reintegration—Occupational therapists may accompany you to the grocery store, restaurants, or other public spaces to measure and improve your ability to function outside the hospital. We may continue these assessments in outpatient therapy.

Driving evaluation—A driving simulator at our outpatient clinic in Sugar House allows you to practice driving in a controlled environment. Occupational therapists can measure your vision, reaction time, and speed of cognitive processing before accompanying you in an actual car.

Family education and training—An occupational therapist works with your family to educate them about community resources and help prepare you for future challenges you may experience outside of the hospital.

Neuro-ophthalmology—Specialists at the John A. Moran Eye Center can evaluate your vision and related brain function whether you're in the hospital or in outpatient rehabilitation.

Orthotics and prosthetics fitting and training—Custom-made orthotics (a shoe insert to treat foot, leg, or back problems) and braces can be made to assist with daily activities and improve your quality of life. These may be 3D-printed and unique to your needs.

Wheelchair Seating and Mobility Clinic—You may need supports or cushions to sit comfortably in a wheelchair and control your environment. Our wheelchair seating and mobility clinic evaluates and prescribes specialized wheelchairs and seating systems for any activity.
Healing the Brain and a Life
The rehabilitation of patients with traumatic brain injuries takes therapy, education, and hope.
Every one of our patients recover differently. For many people, recovery means learning to adjust to the physical and mental impairments resulting from your injury. The foundation of our program is built around helping you adapt since to these new challenges.
Family Support
The support of family is key to the recovery process. While your family member is in the hospital, our doctors and specialists will collaborate with you and keep you informed about your loved one's progress and plan of care. While this may be a stressful time, you can help your family member by staying engaged and planning for the future.
Outpatient
Therapy
Depending on insurance coverage and your health needs, you may receive outpatient services at home with rehabilitation therapists and a nurse's aide or at our Sugar House Therapy Services clinic. Our services available in Sugar House include:
occupational therapy,

neurologic physical therapy,

speech language training,

an exercise gym with equipment tailored to each patient's needs.
The Brain Injury Wellness and Assistive Technology area allows you to use state-of-the-art equipment that can enhance your life after an injury. That may include using:
voice recognition software,

virtual reality devices,

voice-controlled devices in the home,

computers, and

adaptive gaming.
Wellness Program
You can even take advantage of our individualized exercise programs, support groups, nutrition counseling, and community events.
Meet with One of Our Brain Injury Specialists
You will need a referral from your doctor to be admitted to our program, please call our referral line at 801-646-8000. Our referral specialist will work with your current provider to obtain necessary medical records and verify your insurance benefits for coverage.
Brain Injury Patient Outcomes
Our brain injury providers are committed to providing the best care and support for patients who want to reach their functional goals. We track the progress of our patients through the Functional Independence Measure (FIM) tool.
We look at the following patient factors:
level of satisfaction,
level of independence,
discharge to a homelike setting, and
quality of life.
These results fuel our drive and provide standards for our patients and staff. By looking at our program results, we are able to continue raising the bar and setting the standard for brain injury rehabilitation.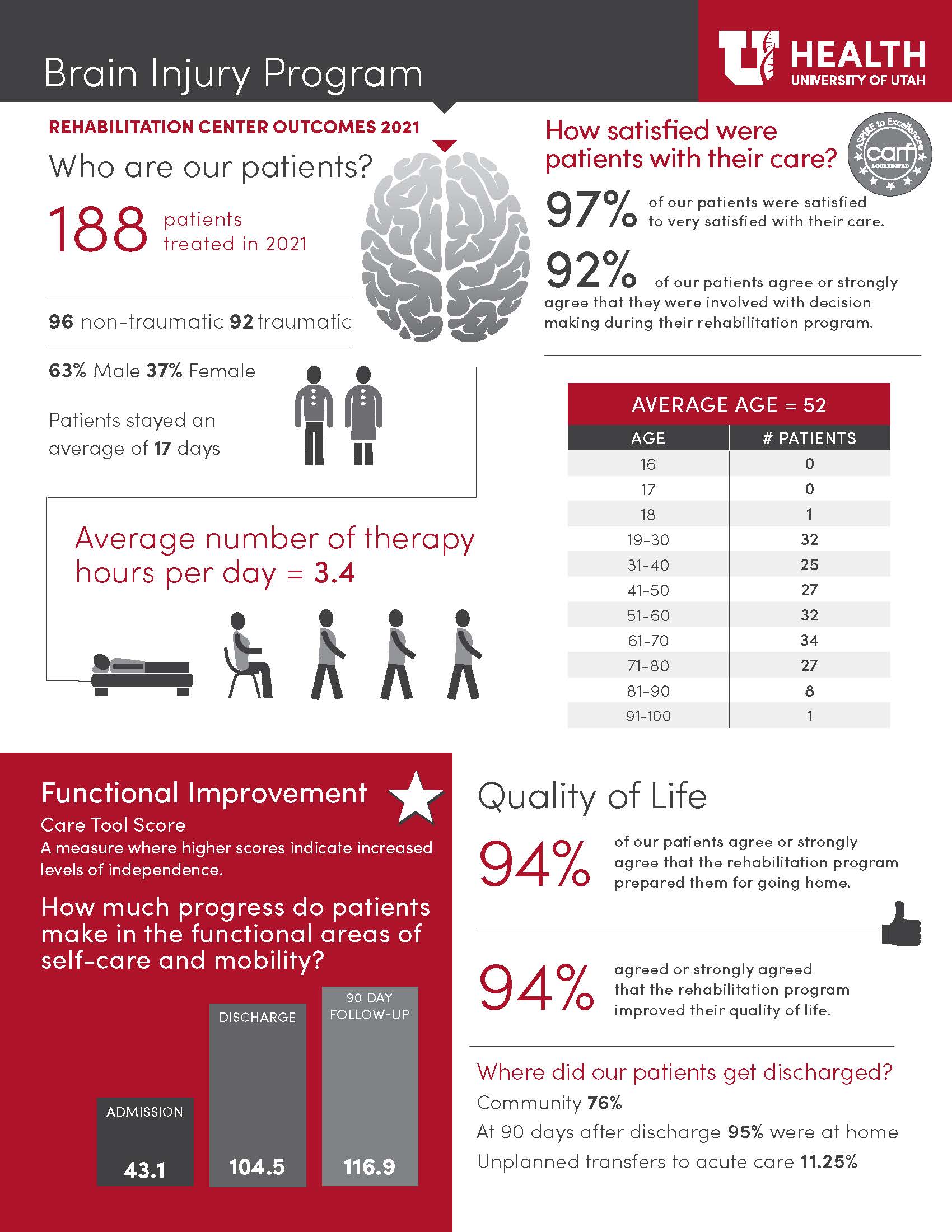 Hear From Our TBI Specialists