Pelvic pain is discomfort in the area below your belly button and above your upper thigh. Pain in the pelvic area is often related to your reproductive organs. But it can stem from problems with your muscles, bones, nerves, or gastrointestinal and urinary organs. You may experience pelvic pain on the right side, left side, or both sides.
Our specialists classify pelvic pain into two categories:
acute pain (lasting less than six months) and
chronic pain (lasting six months or longer).
The primary symptom of pelvic pain is discomfort around your pelvis. The pain may worsen at certain times, such as during:
bowel movements or urination,
intercourse,
long periods of sitting, or
long periods of walking.
What Does Pelvic Pain Feel Like?
If you have pelvic pain, you may experience:
dull aching,
heaviness or pressure,
pain that comes and goes, or
sharp and severe pain.
When to See a Doctor
Everyone experiences discomfort at some point. It may be time to see a doctor if you have pain that:
doesn't go away within one menstrual cycle or
interferes with your usual activities, such as exercising, working, or sleeping.
What Can Cause Pelvic Pain in a Woman?
Pelvic pain in women isn't limited to problems with reproductive organs. It can vary, and specific causes are more common in chronic versus acute cases. 
Acute Pelvic Pain Causes
Acute pain (lasting less than six months) may be a bladder infection or urinary tract infection (UTI). You may also have cyclical acute pain, which means pelvic pain at specific, predictable times.
Common causes of cyclical acute pain include:
adenomyosis (your uterine lining grows into the wall of the uterus),
dysmenorrhea (severe menstrual pain),
endometriosis (your uterine lining grows outside your uterus),
ovarian cysts (growths in your ovaries),
ovulatory pain (pain when you ovulate), or
twisted ovary (your ovary wraps around the tissues that support it). 
Chronic Pelvic Pain Causes
Chronic pain (lasting six months or longer) tends to be less cyclical. Instead, you may feel constant, daily discomfort. Chronic pelvic pain causes can include:
cervical stenosis (narrowing of the opening to your womb),
interstitial cystitis (chronic bladder pain),
irritable bowel syndrome (IBS) (a condition that affects digestion),
muscle spasms in your pelvic floor,
myofascial pain syndrome (chronic muscle pain and inflammation),
nerve damage, or
vascular conditions that affect the blood vessels in your pelvic region.
Pelvic Pain during Pregnancy
Pelvic pain in pregnancy is common. As your body prepares for childbirth, your ligaments soften and become less stable. As a result, your pelvic floor may overcompensate, making it painful to stand, walk, or run. 
At U of U Health, our obstetricians collaborate closely with our team to treat pregnant women for pelvic pain. A physical therapist may:
adjust your pelvic alignment with exercises or postural changes,
offer braces to support your lower spine and hips, or
use taping techniques that hold your body in the correct posture to reduce pain. 
How Is Pelvic Pain Diagnosed?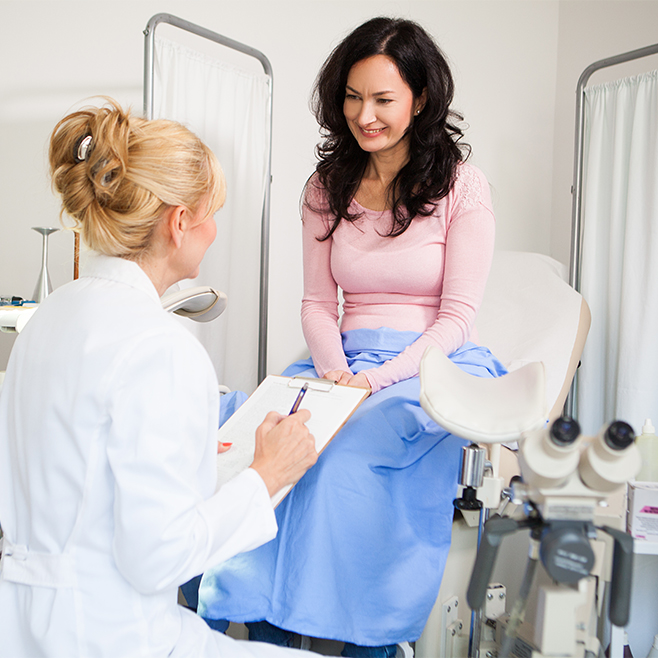 The first step in diagnosing chronic pelvic pain is completing an in-depth questionnaire from the International Pelvic Pain Society. This tool asks you about factors that could lead to pelvic pain, including your lifestyle and health history.
The questionnaire helps our specialists narrow down the possible causes of your symptoms. Then we conduct a physical exam. To diagnose chronic pelvic pain, we will look at your pelvis and evaluate:
the length and symmetry of your legs,
the muscles in your abdomen and pelvic floor, or
your spine and posture.
We may also use the following imaging tests to get a better look at your reproductive organs, such as:
diagnostic hysteroscopy (inserting a thin, tube-like device with a camera to view your uterus), or
saline infusion sonogram (injecting a small amount of sterile fluid into your uterus and viewing the uterus with an ultrasound).
Treatment for pelvic pain depends on the underlying cause, severity, and frequency of pain. Our specialists create targeted, detailed treatment plans based on the extensive workup we do during diagnosis.
Treatment options include:
Why Choose University of Utah Health?
At U of U Health, our Women's Health Services team provides comprehensive care for pelvic pain. We are the only medical center in the Mountain West region—and one of the only ones in the country—with a virtual clinic dedicated to treating chronic pelvic pain. This clinic is a collaboration among gynecologists, physical therapists, pain psychologists, urologists, and gastroenterologists, as needed.
We offer easy access to our care, including virtual video visits. We take a thorough pain history and perform a comprehensive physical examination so we can make the correct diagnosis and find the appropriate treatment.
For acute pelvic pain treatment, you may request an appointment with our Women's Health Services by calling 801-213-2995.
If you're seeking care for chronic pelvic pain, you'll need a physician referral. Most insurance carriers cover pelvic pain treatment but check with your insurance provider before scheduling an appointment.
To refer a patient to our women's health specialists, please fill out our online referral form or call 801-581-2897.
Our Pelvic Pain Specialists